Africa is so rich and diverse in culture and we express our spirit through our unique fashion.
Every woman, on the African continent, and around the world knows how important it is to feel beautiful in a dress, especially for a dinner party, semi-formal or formal function.
I will share a few outfit ideas that will make you look breathtaking, and hopefully make your night memorable too. These are just my own basic guidelines, which are broad-based and can be applied in any area of the African continent and adapted and improved to fit your country's own personal traditional designs, patterns and colors. Remember individual style, is key.
1. Basic Black Long Dress
Many people would consider black as too safe, too boring and just the norm. Yes, it can be all of the above, however if you chose the correct dress for your shape and form. It can be timeless, captivating and sexy. I have had a trusted black dress for the last 12 years. I take it out when I have no time to go out shopping for a new Dinner dress, and it has never failed to get me many, many compliments. I feel sensual and sexy whenever I wear this dress. And my hope is for every woman to feel the same. We are all sexy, beautiful and sensual. No matter our skin tone, shape or size. And the thing about black is, it is always flattering and suits everyone.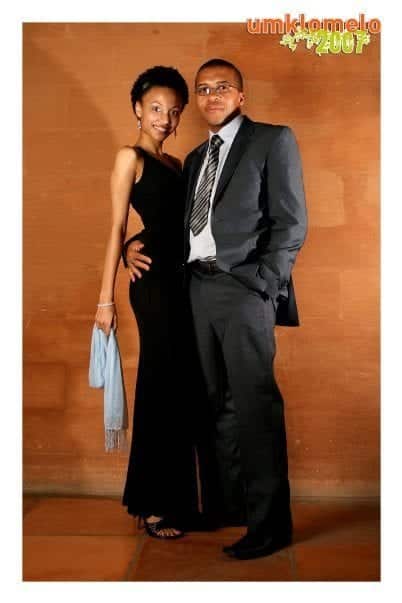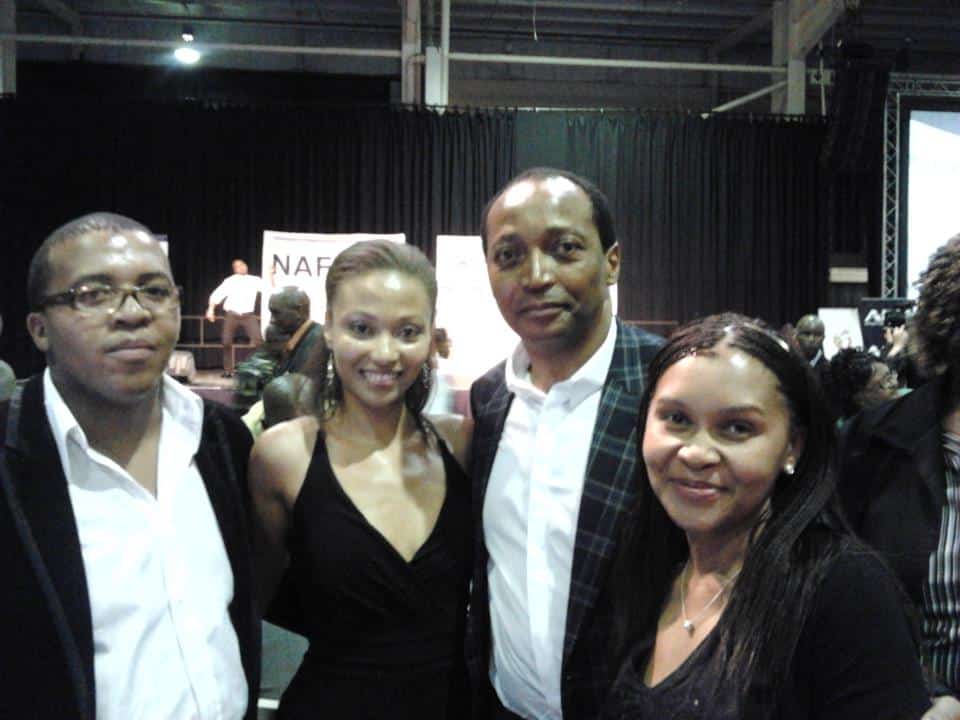 2. African Printed Summer Boho Dress/Skirt
The most important thing to do when you go Bohemian, is to look more Boho-chic and not too old Hippie. Boho dresses and skirts are comfortable, loose-fitting and flowing. Do chic buy experimenting with fun and fashionable print designs and patterns, however always stick to quality fabrics. You can do a bright and vibrant bottom with a neutral top, but keep it sexy and stylish.
3. Off the Shoulder Mermaid Dress
The Mermaid dress is always a winner, so I have added two types on my list. The first one is an off the shoulder one, with some tribal print embroidery. It is form fitting and flattering, especially with the V-neck. And almost any shape can pull this one off.

4. Mermaid, Sweetheart Neckline
The sweetheart neckline, is for those who are not afraid to show off their decollete. It is strapless with deep rich colors of golds, reds and blues. And ruffled bottom just increases its elegance.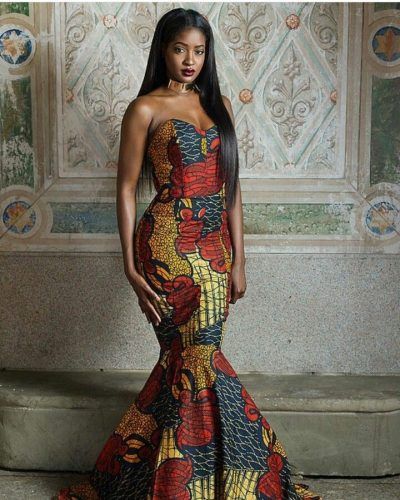 5. The Pantsuit
Fashion is constantly evolving, and women are no longer expected to only wear dresses to these events. The well-tailored pantsuit is for the modern woman, who dares to be different, is confident and doesn't mind to stand out.
Now we are going to look at outfits from the Top 10 Fashion Cities in Africa, all the outfits are from designers from the African continent.
Cape Town, South Africa
6. Ethereal Evening Dress
This elegant and ethereal earthy brown evening dress is well-rounded look with its flowery embroidery and layers of lace. It is tightly hinged in at the waist creating an A-line dress with a plunging neck-line. It flows so much that it almost looks fairy-like. This dress will make you look like you have walked or floated right out of a dream.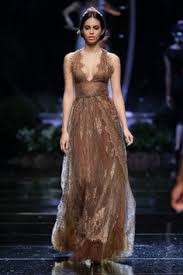 7.
Tulle Evening Dress
Even though tulle is usually used for wedding dresses, tutus or flower girl dresses etc. with the detail and intricate golden beading done on this white ensemble, it gives it a new spin and a breath of fresh air. It makes the wearer look like royalty.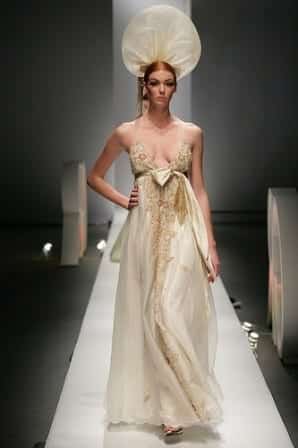 Johannesburg, South Africa
8. Black Lace with Glitter
The upper part of this dress consists of mesh and lace with some embroidery which is then intricately woven onto a peach-brown bottom/skirt with fine artistic glittered detail and ruffled edges.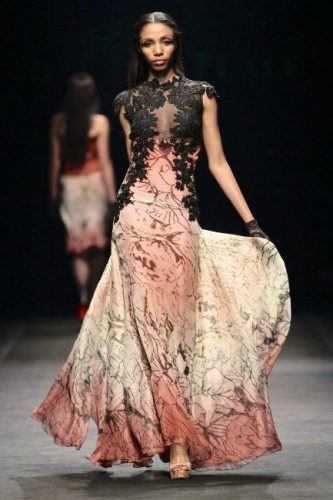 9. Angelic Dress with woven Belt
This one-piece looks simply magical. It is full-length, loose-fitting, modest and surely very comfortable. It seems like it will just flow or even dance over your body as you move.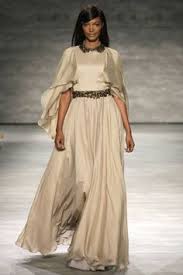 Dakar, Senegal
The Senegalese are known for their preference for bright colors. I have included three options from this beautiful country.
10. Red Lace Evening Dress
This see-through lace ensemble, balances its sexiness with sophistication through its high-collared top and mermaid bottom which is embossed with a traditional Senegalese tribal print.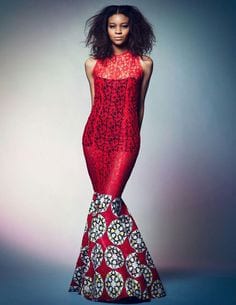 11. Corset with Tulip Skirt
The bright pink corset, which should always be tailor made for a perfect fit, is completed with a fun and savvy chic tribal printed tulip skirt. It is very important that the corset is made to fit your upper body like a glove. I have witnessed some ladies not enjoying the night because they felt uncomfortable and were pulling up their corsets every 40 seconds. This could ruin your whole evening. So make sure that it fits. If you prefer a longer skirt, you could add a little more length to the tulip skirt.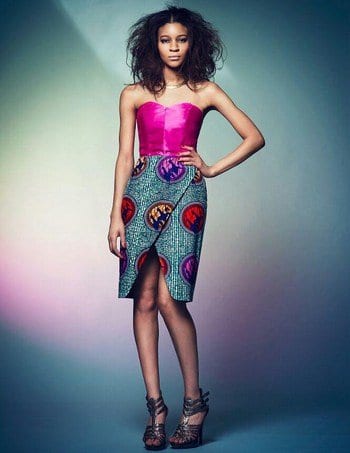 12. Full-length Form Fitting Dress
This blue and mustard number is made out of rich tribal printed fabric. It is form-fitting but not too tight, thus still a comfortable option. It is full-length so I would suggest that you consider this one in the colder seasons.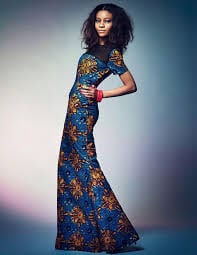 Tanzania, Dar Es Salaam
13. Crimson Red Flowing Dress
We all know that the color red draws immediate attention. This Crimson Red number will certainly turn heads with its A-line, flowing and lightweight design. If you want to ooze confidence and sexiness with ease, this is the dress for you. It has a relaxed silhouette, and the different tribal detail fabric on the hem, waist and around the neckline radiate class and sophistication. Round it off with some beaded necklaces and even a bangle or two won't hurt.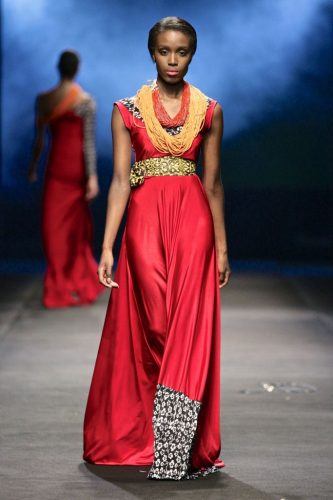 14. Short Cocktail Dress
This dress has matching fabric around the sleeves and waist. It is sleek and sexy and thus very suitable for semi-formal occasions. The bold, big black and white polka dots are good, because I am yet to meet a woman who does not look good in polka dots.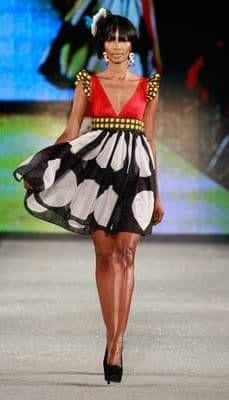 Nairobi, Kenya
15. Whimsical Dress
The chic floral-printed dress featuring ruffle trim detail. Is high-collared but not too formal as it still has a touch of bohemian, however still manages to encapsulate a spirit of elegance in a free and flowing manner.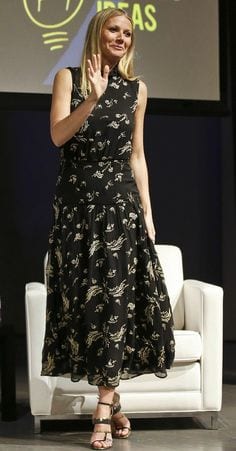 Luanda, Angola
16. Draping Neckline Dress
This white beauty, has a flowing and draping neckline, which is not too low. It drapes over your hips and hugs your silhouette. Its detailed black and gold corset accentuates the hourglass figure of a woman. You surely will feel like a queen in this one.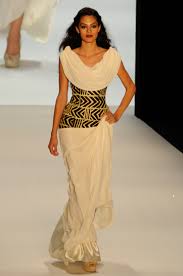 Accra, Ghana
17. Futuristic Little Black Dress
This LBD (Little Black Dress) is a short and very futuristic and strong structured design. It looks like something a celebrity would wear on the Red Carpet. Its modern design pops out at the bottom, like a bell. And the texture on the fabric reminds me of an ancient African pottery piece. This is a masterpiece. Be prepared to make a statement when you wear this dress.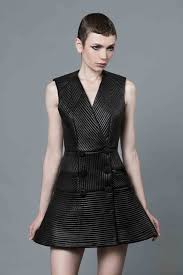 18. Beige and Blue Done Right
When women hear of the color beige, we think it is boring, bland or too safe. Because that is what we have been told to believe with sayings such as: "Go with beige, you will blend right in". But this piece is rescued by its daring blue-flamed detail which looks like it is engulfing the model's upper torso. So with this beige you will be anything but bland, in fact you will be breathtaking.
19. Royal Blue
This option could be bland if not for the interesting jewelry and headpiece. So if accessories are your thing, then this one is for you. ACCESSORIZE, ACCESSORIZE, ACCESSORIZE!! And make it interesting. Add your own touch, but keep in mind that colors that go with Royal Blue are very limited. So make sure you match or you could end up looking like a dried out wall-flower.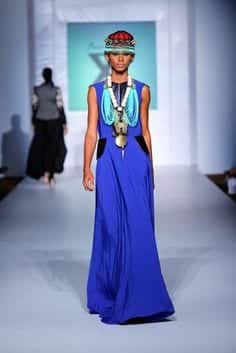 Lagos, Nigeria
20. Lace Number
In Lagos, the woman love lace. It is very feminine and they find different intricate designs. But they always keep classy and form fittingly beautiful
Once you have the dress sorted. You can now focus on your hair-do, make-up and jewelry. Always remember that sometimes less, is more. Especially for an evening function. And ladies, here heels are the only option.
Be fashionable and most importantly, stay beautiful.