Like many of you, reading this, I too was under the incorrect impression that the biggest Carnival in the World, is in Rio de Janeiro, but we were all wrong. That distinguished honor belongs to Salvador, and not Rio.
The Carnival in Salvador is put in the Guinness Book of World Records as the biggest street party on the planet.
Salvador, is the capital of the Brazilian state of Bahia and is considered to be the spiritual heart/hub of Brazil. It still has a very strong African influence and it can boast that according to history, Afro-Brazilians from Bahia, were the originators of samba beats, that soon spread from Bahia to Rio with the abolition of slavery in 1888. So even Rio, has Salvador to thank for its vibrant samba culture, which the Rio Carnival is built upon.
According to research and testimonies of Carnival goers I have discovered that the true difference between the Rio Carnival and Salvador Carnival is: "In Rio, you are a spectator, while in Salvador you are a participator". So if you want to be part of the action, this is most definitely the place to be.
How these Carnivals originated or came to be, is a little sad and somber, however that is what makes the fact that the people from all around the whole world travel great distances to partake and celebrate them, so BEAUTIFUL.
The enslaved Africans were trying their very best to revive and remember their African festivals which they celebrated regularly on the motherland by wearing costumes in the Americas, this has been historically documented very well.
Early eyewitness accounts describe African slaves as donning horned masks, feathered headdresses and wearing shredded strips of cloth while painting their faces and bodies in assorted colors. This sounds very familiar, doesn't it? Now we know why the women, wear such scanty but very exotic costumes,with bright make-up and lots of feathers.
Before we look at outfits, here are a couple of things to keep in mind if you are going to be attending the Salvador Carnival.
Look Smoldering Sexy Carnival is a time to let go, be free and let your hair down. For single people, it is the opportune moment to meet other single people, and dressing sexy is just part of the fun. So don't be shy. Dance like nobody is watching, enjoy the rhythmic elements which will surely surround you and just have an amazing time.
Less is More This is the rule of thumb there, not only because the whole atmosphere of the Carnival has a very sensual undertone, but the Carnival falls right in the middle of the hot Bahia summer. That is the reason why many women opt for shorts, short skirts or long flowing skirts with a bikini top.
Expect to see a lot of beautiful people The locals and also international tourists are known to go out of their way in preparing for this festival. Remember: "When in Rome, do as the Romans do…" You won't regret it.
Don't think of heels Heels are not a wise option, as the streets do get grimy. And even sandals are not recommended as it is most certainly guaranteed that either a stranger or a dance partner will step on your toes. And that could just spoil your fun.
You will be showing some skin, so it is important to groom.
Brazilian people are very out-going and talkative. So do not be shocked when a complete stranger approaches you and starts chatting. It is part of the beauty of it. Brazilians are very enthusiastic and do get excited easily.
English is not spoken widely, and they speak Portuguese, not Spanish like many people think for some reason. So learn some basic Portuguese to make your time there more enjoyable.
It is a beautiful country, with beautiful people, so prepare to be in awe most of the time, that you are there.
Do not forget to pack your sunscreen and insect/mosquito repellent.
Now that all of that is out of the way, let's look at a few options you have to wear, Gorgeous 😉
1. The Candomble Dress
The more traditional and most certainly a few locals will be wearing a Candomble dress. Candomble is a Portuguese word which means "Dance in honor of the gods", which is actually what the locals will be doing. Candomble is an Afro-Brazilian religion developed from traditional Yoruba, Fon and Bantu beliefs brought from West and Central Africa by enslaved captives. Today it is practiced in many Latin American countries like Argentina, Paraguay, Venezuala, Uruguay and even the United States, however it originated in Salvador.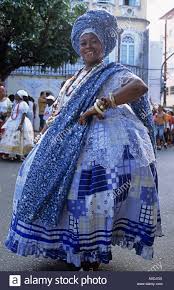 The lady above is wearing a blue Candomble dress. The dress is always accompanied by traditional neck beads, which also have different meaning depending on the colors.
2. Baiana de Acaraje
Baiana de Acaraje, is an over-the-top but exquisite traditional costume, which the Baianas (women of Bahia) wear very proudly. Their diverse culture mixed history is portrayed in this ensemble, which is a curious blend of ancient European Baroque, with white lace details, multiple layers, and vibrant tropical jewelry and accentuated with a headdress.
The dress consists of the camino, which are white cotton pants, worn underneath a long flowing skirt. The skirt is usually white, long and voluminous. This is also accompanied by a bodice, which typically hangs over the top of the skirt.
This traditional look is rounded of by the women with layered headscarves. And each Baiana finishes off this dress with her own signature style, which apparently is always accompanied with a beautiful smile.
The result is a rich and beautifully adorned looking woman. You will find the local female vendors wearing this outfit very proudly.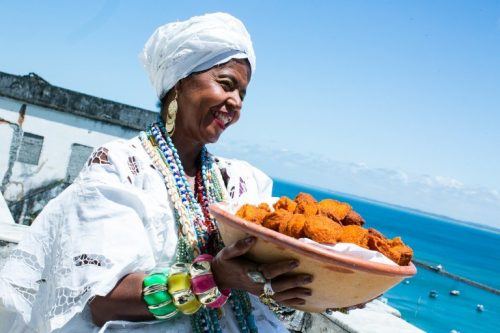 3. Neo – Baiana de Acaraje
The Neo version of the traditional classic dress, will surely be more appealing to the younger fashionista. It still pays homage to the original, by sticking to the important basics of the Baiana de Acaraje like the white lace details, multiple layers. However, instead of wearing the traditional camino under the skirt, opt for a breathable knitted skirt, which is a bit longer and will also add the additional layer. The skirt has also been modernized to a long, less voluminous, flowing, pleaded skirt. The bodice is also tucked into the skirt, like the latest trends, instead of hanging over it.
This look is also made more stunning with the indigo silk scarf, which is tied around the waist in a bow. It is personal touches like these, which will express your personality through what you wear. Instead of the traditional vibrant tropical jewelry, go with earthy, natural toned beads for your neck and also for your bracelets.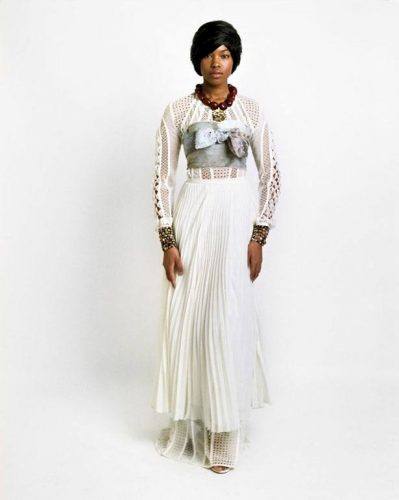 4. Candela crop top with Ball Skirt
This outfit is a Candela crop top, under a long shirt, which is optional, depending on your own personal style. With a Ball Skirt underneath a skirt, still sticking to the tradition of multiple layers.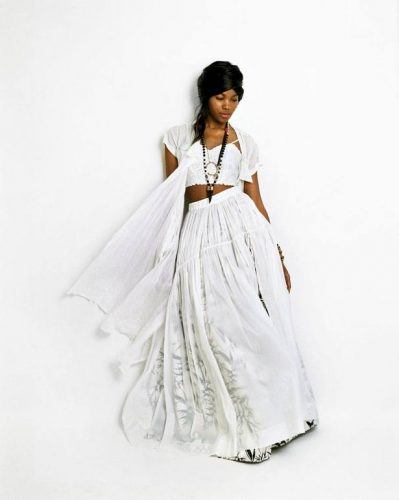 5. Bahia Dress
If you still prefer to cover up, and look modest, but beautiful, you can always opt for a Bahia Dress, which is modern, yet modest and sensual. This specific one, in the pictures below, still has the lace, the flow and voluminousness of the traditional dress. It is made of breathable fabric, which will ensure that you still stay cool, yet covered, in the Brazilian sun and heat. Round it off with a belt, so that your female form is still flattered. And you could add a few stand-out items, such as golden bangles, earrings and even rings.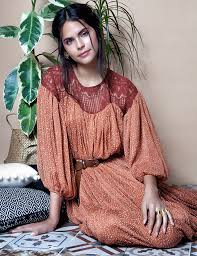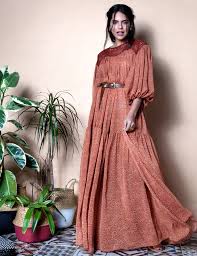 Crocheted/Knitted Dresses and Skirts
Remember that you are in Brazil, and there is no such thing as "too sexy" in Brazil. Brazilians are known to be very proud of their bodies. They prefer to wear fitted clothing and also to show off some of that golden skin. Nobody is perfect, but flaunt and highlight your good parts.
So below I have included a few crocheted/knitted dresses and skirts you can wear over your bikini. This will allow you to show off some skin, but still keeps it mysterious at the same time.
These dresses and skirts work really well because they show off your beautiful female frame, but hide your imperfection. So wear them and there is no need to feel self-conscious. Be free "Beleza", which is their local slang for Beauty. Have fun and remember to do you.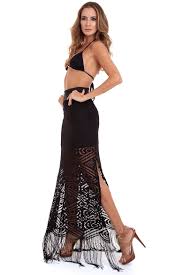 6. Black Crochet Skirt
The Black Crochet Skirt, is form fitting, sleek and with long slits, to show off those killer legs. Just remember to lose the heels. If you feel like black is too dark for the sun, you can opt for a lighter color of your choice.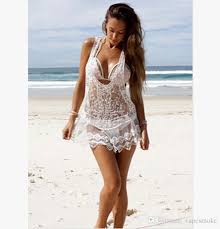 7. White Light Knitted Dress
This light knitted dress, is very sexy. It covers what needs to be covered but will also allow you to feel the breeze. It is a classy and cute look. You cannot go wrong with that killer combination. You are showing off some skin, but still look like a lady.
8. Heavy Knitted Crochet Dress
Above is a heavier crochet alternative, to the previous option. The wool is thicker, so you will be a little warmer but if you are a bit shy, it will cover you more. It still shows off all the beautiful parts of a woman's physique. Notice how it drapes off, the one shoulder. You are sure to feel like a princess, if this is your outfit of choice.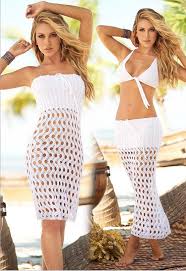 9 & 10. Functional Short Dress or Skirt
I have included this white knit design, because it is very functional. It can be worn as a short dress, as seen in the first picture, or a long skirt, as seen in the second picture. Dancing all day in the sun, can be very long and sweaty. So if you want to switch it up for the evening, without having to go back to the hotel to change, then this one is for you. It could make you feel fresh, by just slipping it up or down. It is completely up to you.
And now for the Braver ones out there. There ones who are going to the Carnival to reign. Here are a few more risque outfit ideas.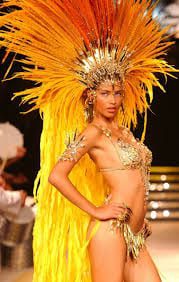 11. Yellow Two-Piece Costume with Feathers
This Carnival outfit, above. Just looks simply magnificent. It literally makes the wearer embody the essence of the sun, with these different hues of gold, yellow and orange. Note the very detailed embellishments on the bikini top and bottom, as well as on the headdress. The detail is impeccable. She looks like a "Sun Goddess". And I am sure that if you choose to recreate this particular look, you will feel like a Goddess too. In this the Carnival world will surely revolve around you, just as the world revolves around the sun.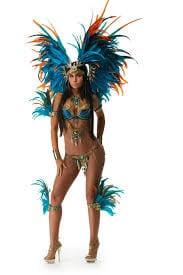 12. Native American Motif Two-Piece Costume
This is a Costume with a twist. Even though it has the basics of the traditional Carnival costume (the feathers, etc.), it has undertones of Native American motif and details. So it shows you that you can improvise. You do not have to stick to a pattern. There are no set rules. Improvise, adapt and make it your own. Put your own personal touches/style into the outfit. You could even incorporate elements of your own culture, no matter which country you are from, into your Carnival costume. You could add elements of Greek, Egyptian or even Eastern motifs. Wear whatever will make you feel gorgeous and unique.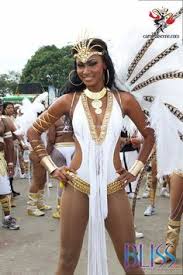 13. White Ancient Greek/Egyptian Motif One-Piece Costume
This beautiful white costume has an ancient Greek/Egyptian motif. Note how well the gold and white works together. She looks like a queen.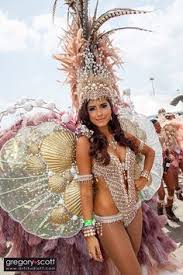 14. Jeweled One-Piece with an Indian/Eastern touch
This jeweled number could work well, however keep in mind that all the embellishments might make it a bit on the heavy side.
15. White Angel Costume
Every woman has dreamed of dressing like an angel at one stage in her life. Carnivals are the opportunity to live out your dreams and fantasies, so don't hold back. Instead of just sticking to the traditional all white angel costume, dress it up by choosing a gold two-piece but sticking to white feathers.
16. Fallen/Dark Angel Costume
Some of you who want to be a bit naughty, could go for the Fallen/Dark Angel Costume. Stick to black and reds. Any rich, dark colors should do.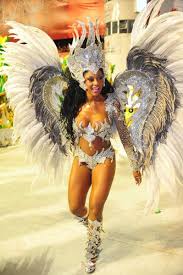 17. Samba Angel Costume
Dancers (called Passistas) wear these elaborate costumes based on themes chosen by their Samba schools. Note the jewel-encrusted bikini, colorful sky-high headdress, feathered wings and heeled boots.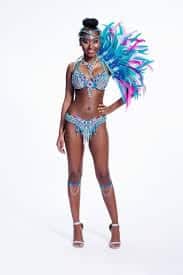 18. Mermaid Inspired Carnival Costume
This ensemble reminds you of the ocean, with its deep and light blues.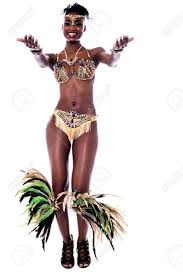 19. African Maiden Costume
This Costume, bares similarities to the traditional Bantu and Zulu Maidens dresses, and the colors are those of the African Jungle.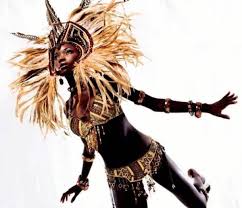 20. Tribal Costume
I saved my favorite for last. If I were to attend this carnival, I would wear this Tribal themed costume, in homage to the African slaves, who out of a longing for home, started the Carnival tradition.
I hope you had fun, or at least got a bit of inspiration for your outfit while reading this article.
Good luck, have fun and always stay beautiful 😉