Islamabad:-AAA Associates has been awarded as "The Best Business Group of the Decade" at the 33rd Rawalpindi Chamber of Commerce & Industry International Achievement Awards 2021 & Business Opportunities Conference. The event, held in collaboration with the Pakistan High Commission in Sri Lanka, was held in Columbo, Sri Lanka. MD AAA Associates Lt. Col. Shahzad Ali Kiani (R) received the award on behalf of AAA Associates from the Prime Minister of Sri Lanka His Excellency Mahinda Rajapaksa.

Witnessing the ceremony were H.E Minister of Trade, Govt of Sri Lanka Dr. Bandula Gunawardena. Adviser to Prime Minister of Pakistan for Commerce and Investment Razak Dawood, RCCI President Mr Rauf Nadeem, Acting High Commissioner of Pakistan Tanvir Ahmad Bhatti, Trade & Investment Attaché Asma Kamal, along with the other dignitaries from both countries.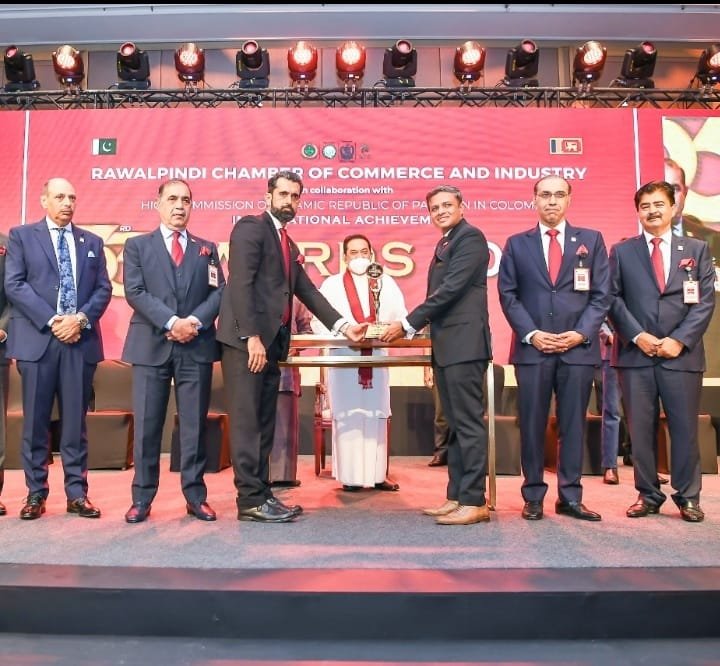 Upon receiving the award, MD AAA Associates Lt. Col. Shahzad Ali Kiani (R) talked to the press and said, "While the journey continues for AAA associates, it felt an honor to be recognized for where we are. Onwards and upwards, the award is not a culmination but a recognition for our continued striving for excellence."
Discussing the importance of such events, MD AAA Associates Lt. Col. Shahzad Ali Kiani(R) termed it "A successful initiative by RCCI that will culminate our growing cultural and strategic cooperation, better trade partnership will help the two nations better navigate our deepening people-to-people ties." AAA Associates is among Pakistan's leading business conglomorates, with its core focus on sustainable development. The firm is rapidly progressing in a myriad of ventures.
Pakistan and Sri Lanka shares deep economic and culture ties. With the two-way business currently at $1.2b million, the experts believe that the there is a potential of bilateral trade in excess of $2 Billion in the two countries. Events like this go a long way towards achieving these goals and promoting bilateral trade and investment.