29 December 2021: Wall Real Estate celebrates the success of Lahore Smart City with Mr Mujeeb Ahmed Khan, GM Sales & Marketing Lahore Smart City and Capital Smart City and talks about the project's journey, features, development and prospects.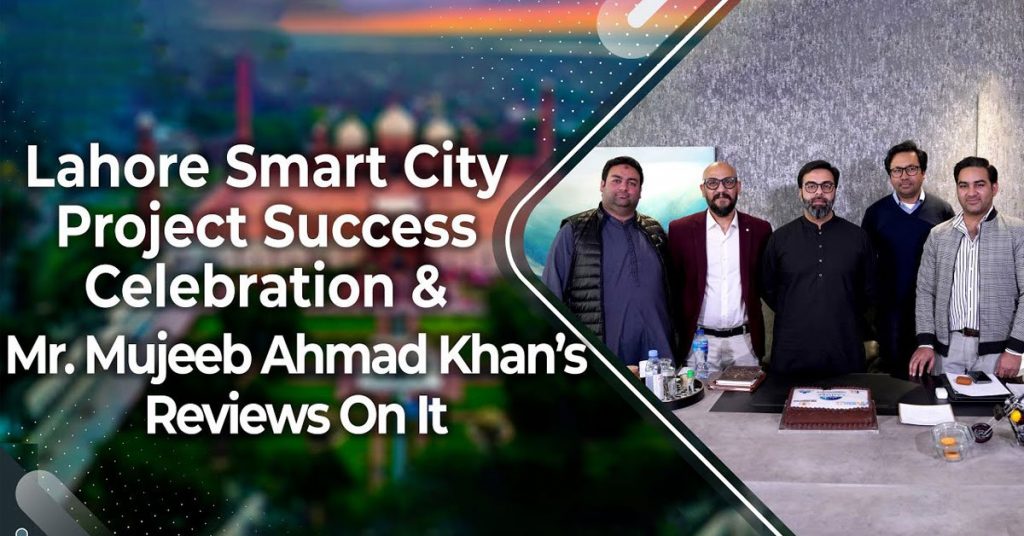 Check Also – Apartmentalization of Cities provide best solutions to tackle Urbanization
CEO Wall Real Estate M. Zunair Rafique and the team met with Mr Mujeeb Ahmed Khan, GM Sales & Marketing LSC and CSCI recently to celebrate the incredible success of the Lahore Smart City project. After the cake cutting, Mr Mujeeb Ahmed Khan talks about the success story of LSC along with its high-grade development, intelligent features, plans, and more.
Talking about Smart City Lahore, Mr Mujeeb Ahmed firstly thanked the investors for an overwhelming response by placing trust in LSC developers. He said that Lahore Smart City is one of its kind projects in Lahore offering next living to people by initiating modern living full of intelligent and efficient resources.

The development work just started 4 to 5 months before leading to considerable construction done at the current time, adding more to the appeal of Lahore Smart City, he further added. By appreciating society's infrastructure and town planning, Mr Mujeeb said that LSC has planned and uniquely developed everything to introduce new living standards that no other housing project in Pakistan is offering.
On asking about the prospects of Lahore Smart City, GM says that it would be among the top real estate development in Pakistan with its intelligent features, sustainable living environment, modern infrastructure, world-class amenities, and much more. Society has already started giving profits to its investors as the demand for Lahore Smart City property has significantly increased at high rates. However, the property value will further increase in the coming time.

Acknowledging all the efforts made by Wall Real Estate, Mr Mujeed Ahmed Khan appreciated saying that the company consistently delivers quality services with total dedication. He added that Wall Real Estate has been working with them since day 1 and has proven experience in property marketing and business in major cities of Pakistan, including Lahore, Islamabad, Sargodha, Sahiwal, and Multan. In the end, Mr Mujeeb wishes everyone a happy new year from the whole management of LSCI and CSCI.