WhatsApp is almost often the first thing that comes to mind when someone mentions instant messaging apps. Whatsapp is one of the world's most popular apps in messaging. WhatsApp can be used for both formal and informal conversations. You can also erase messages that you've sent to other people from the app.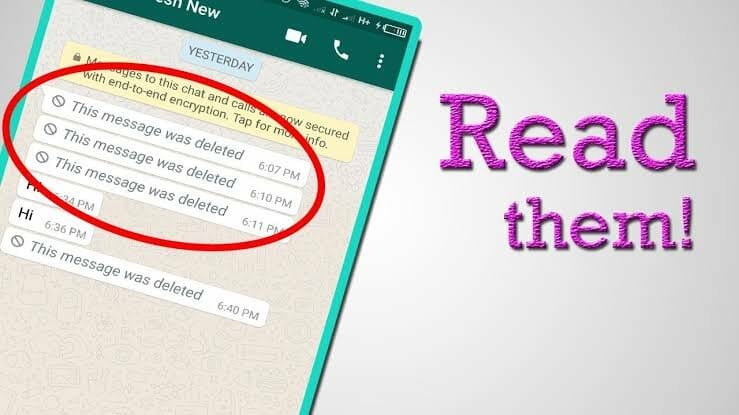 Check Also – This IPhone Feature can safe your data from Hackers
In some cases, a person may delete WhatsApp messages sent to you because the message contained mistakes or was sent to the wrong person. Removed messages cannot be recovered once they've been deleted. If you were able to read the message just before the sender removed it, or if you were able to read it on the notification window, you are lucky.
Whatsapp does not have Deleted messages Recovery function officially
WhatsApp does not officially have a facility to let you retrieve lost communications, as far as we know. How to read deleted WhatsApp messages is a question that may have a hack as a realistic answer.
Check Also – WhatsApp restricts Last Seen for strangers to improve privacy
Unfortunately, you'll have to leave the comforts of WhatsApp and rely on third-party apps to get the aid you need. It is possible to recover WhatsApp messages using a variety of programmes. There are a few methods you can take to find out what that deleted message was. However, it should be mentioned that this method only works with Android phones and not with iOS.
Deleted WhatsApp Messages can be Retrieved using Third-party Applications
To read the deleted WhatsApp messages, a third-party application must have access to a lot of your personal information, which can be potentially intrusive and may compromise your privacy. As a result, it's a risky game to play.
Here is How to Read WhatsApp Deleted Messages
Step 1: While there are various third-party applications available for reading deleted WhatsApp messages, we will discuss the application WAMR and how it may be utilised in this article.
Step 2: From the Google Play Store, download and install the WAMR application on your phone.
Step 3: After that, launch the app, read and agree the disclaimer, and then click the Next button.
Step 4: Next, you'll need to select the applications you'd like to monitor. You must select WhatsApp from the list of available alternatives. You may also monitor any other messaging apps.
Step 5: Continue reading and swiping until you reach the Setup page. 
Step 6: When the setup screen appears, touch Enable next to Notification Reader.
Step 7: You will now be routed to the Settings app on your phone, where you can give notification access.
Step 8: From the Settings menu, locate and tap on WAMR.
Step 9: Allow notification access and press Allow once again.
Step 10: After granting access to the application, you must return to the WAMR app and touch on the Next arrow.
Step 11: At this point, you can save your WhatsApp notification history.
Additionally, if someone deletes a message you received via WhatsApp, WAMR will tell you, and you can read the message by tapping on the notification.