A video of a young man in a 'Aladdin' costume riding a 'floating' carpet through the streets of Dubai has gone viral in the United Arab Emirates.

YouTuber 'RhyzOrDie,' dressed as 'Aladdin,' created some impressive things that deserve more acclaim.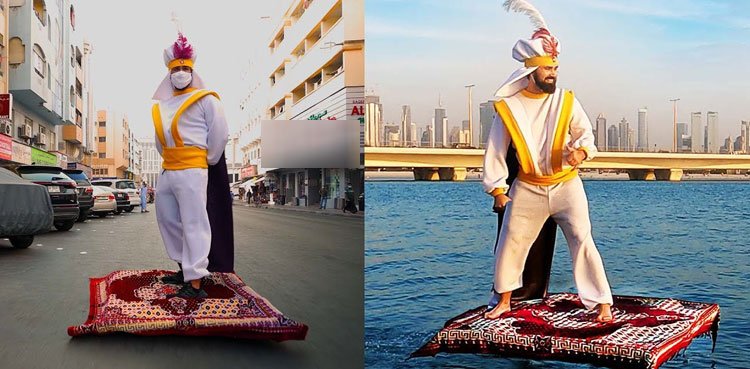 With the help of PVC pipes and an electronic longboard, RhyzOrDie created the "floating" carpet. After that, he added a carpet to give it a magical appearance.
That's not the end of the storey. When it came to surfing, the YouTuber decided to go all out by attaching a carpet to his board.

Because it appears that his carpet is gliding across the water's surface, one can easily become perplexed. I'm curious to know, though. Using an eFoil board, the YouTuber performed the stunt. An electric surfboard is one equipped with a propeller.

No need to paddle or pump your legs to keep the eFoil board moving for the eFoil rider." To put it simply, an eFoil is basically the world's tiniest watercraft," RhyzOrDie states.
An inside look at how we made the "Aladdin and Magic Carpet" video has been eagerly awaited." Someone will hopefully be motivated to put their ideas into action as a result of these videos . Many thanks to all of you for your overwhelming support, your new followers, and the journalist who landed me on the following pages! It's a pleasure working with you all!"