Cloud contact centers offer many advantages over traditional call centers, including reduced energy costs, lower staffing costs, and increased productivity.
A cloud contact center offers all of the benefits of a traditional call center with the bonus of reducing energy consumption and labor costs-precisely because it is "cloud"-based. This means that a cloud contact center requires less upfront investment than a more traditional call center–which means savings for both money and resources.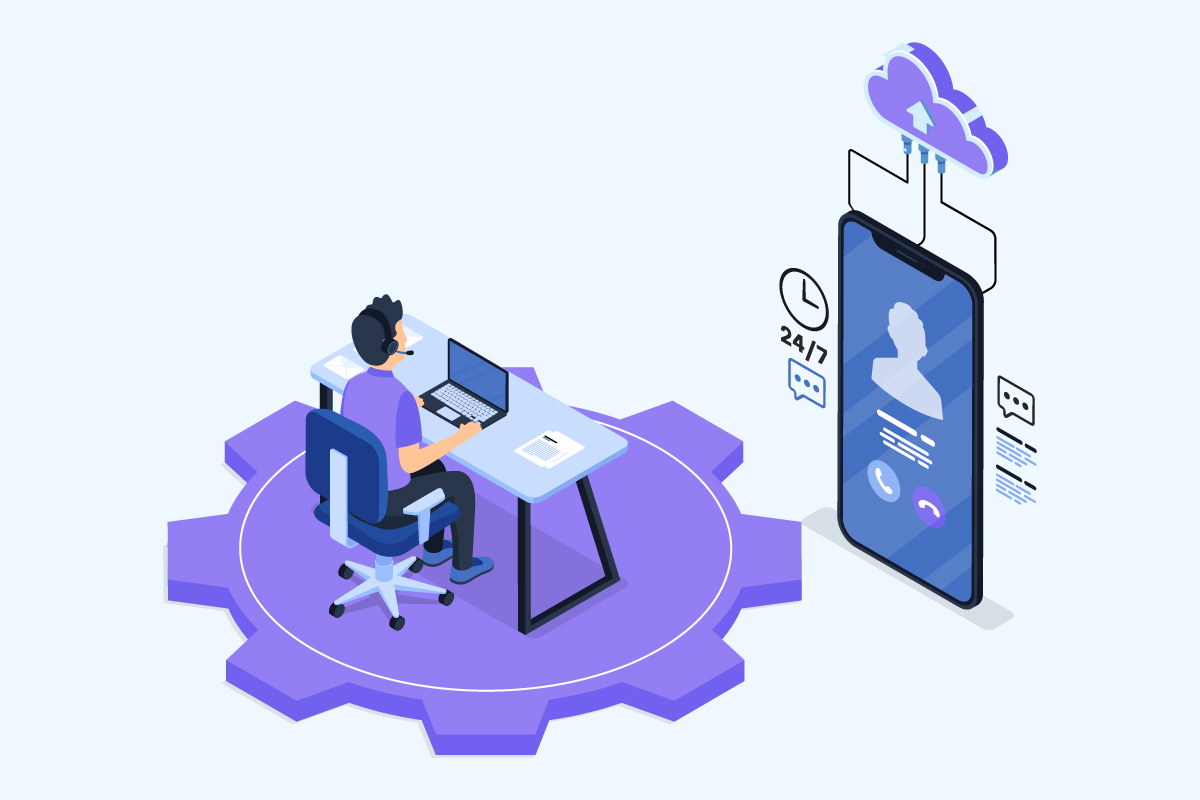 In addition to these cost benefits, cloud-based call centers also provide increased productivity by leveraging state-of-the-art automation software and other handy cloud telephony features.
 The user interface features many interactive features, like audio prompts that guide contacts through their dialogues with clients or colleagues in real-time.
Check Also – Instagram test new Subscription Feature in US
What is a cloud call center? 
The cloud call center is a fantastic innovation that allows small and big businesses to enjoy the benefits of a call center, but with the cost and convenience of working from home.
The cloud call center has almost all the many features such as inbound voice processing, outbound voice processing, virtual reception desk, CRM integration, IVR, Voicemail system, etc. enabling employees to make and receive calls from anywhere – be it home or office.
The cloud call center is a service that provides customer service to the customer via phone or email. An example of this service is live chat. 
The cloud call center has been around as early as 2004 and has grown in popularity since then because it's cheaper, more efficient, and easier to manage.
There are few costs for the company to use cloud call centers due to the lack of equipment required for it rather than a ground-bound office, and there are also no additional costs with space rental. 
The efficiency from the cloud call centers is increased with better performance from agents who have little to no distractions while working remotely to focus on specific tasks and jobs. 
Benefits of cloud call center 
The perks of a cloud call center are substantial. Not only does a cloud call center offer new opportunities for companies to save money and resources, but it also provides customers with customer service they will love.
Flexibility and scalability
Cloud-based call center software allows enterprises to scale up or down in response to changes in customer traffic and business needs.
Businesses can get the center up and running in a shorter time because there is no requirement for hardware installation.
As a result, by embracing cloud computing technologies, the complete call center may be operational relatively fast, and enterprises can swiftly reach their desired goals.
Home-based work enables users to work and complete all official tasks from the comfort of their own homes.
This allows organizations to maintain a pool of native-speaking agents with superior language abilities at a lesser cost and effortlessly raise or decrease agent count based on call traffic.
Customers and employees with more options
While cloud solutions are simple to set up and utilize right away, they also give customers more flexibility. The solution provides on-demand data and processing capabilities, allowing brands to employees from anywhere globally and deliver 24/7 customer service.
Cloud solutions are highly cost-effective since they eliminate the hefty upfront fees that on-premise solutions often imply. 
Cloud solutions can be improved at a low cost, allowing contact centers to integrate platforms while saving money through a pay-as-you-go consumption model and a free trial.
Essential telephony features for running a cloud call center from home
Running a cloud call center from home is not just about the internet connection quality or a good headset. You need to ensure that your home office has all the features necessary to increase productivity and efficiency.
Call centers that use cloud networks will need a cloud-based calling system to integrate with their online databases. Cloud-based calling, also known as Voice over Internet Protocol (VoIP), is a phone system that uses the internet rather than a phone line.
While a third-party provider typically provides this service, it is usually less expensive to install and maintain than traditional landlines. Because VoIP does not require on-premise hardware, it eliminates the typical maintenance and infrastructure costs associated with classic phone lines.
Interactive Voice Response (IVR)
Interactive Voice Response (IVR) is a computer-to-human communication method. This can be used to direct clients to the appropriate customer support department. IVRs assist businesses in providing a consistent and efficient customer experience.
Furthermore, IVR features can enable customers to resolve difficulties without speaking with a person. As a result, it's an essential aspect of every corporate phone system.
Email & Text Messages from Voicemail
Voicemail forwarding via email or text is a great way to provide constant support. Even if they are busy, the same skilled agent can manage many contacts on the same issue. The representative can then listen to the recording and decide next.
According to customer service statistics, two out of every three customers use at least three contact channels.
For business phone systems, call routing is a call management tool. It puts incoming calls in a queue before routing them to a specific individual or group of people, depending on pre-set rules and criteria. It is routed before the call is picked up on the other end.
While your employees are busy, you can use this option to place many calls on hold. You'll never miss an inbound call this way. It is most effective when queuing is used in conjunction with another tool, such as IVR or an auto-attendant.
Businesses gain from call queuing because it allows them to provide proper call routing to employees without sacrificing caller availability.
This lets the user confirm whether or not self-service will resolve their problem. Customers can also ensure that they arrive at the correct department after a brief wait on hold.
Toll-free numbers are phone numbers your customers can call without incurring any charges. They have unique three- or four-digit area codes, such as 800, 0866, or 8800.
Toll-free numbers enable your customers to get the assistance they require without incurring long-distance fees (typically on a landline). Because of the reputation of an 800-number, toll-free numbers enable a smaller business to appear larger and more trustworthy.
Not every company requires an IVR system. An auto-attendant will be sufficient if all you want to do is direct consumers to the appropriate location.
Customers are transferred to an extension number by an auto attendant. It accomplishes this by sending automated messages and dialing phone numbers. 
It's usually a basic automated message with a welcome and a series of prompts at the conclusion. "Press 2 for billing concerns," for example. They dial the correct number and are connected to the appropriate internal line.
Instead of placing your clients on hold, you can use it to offer a call-back service.
Today, leading call centers systems provide managers with complete visibility into both live and previous phone calls.
Call monitoring helps you listen in on live calls or listen to recordings of previous calls. This allows you to track employees' performance and use it to inform your team's future training, guidance, and resources.
Some advanced call monitoring systems allow managers to interact with the caller or agent and listen in on conversations.
Calls should be recorded in high quality for later review. A VoIP phone uses the internet to send voice data, which means you can save the source voice without the need for bulky hardware. 
Staff can access recordings from anywhere with the proper credentials because they are stored in the cloud. And managers can collaborate with their agents to troubleshoot and solve problems.
VoIP technology allows for silent and undetectable call recording by all parties. By recording calls through the cloud, both sides of the conversation are instantly logged and recorded. Even better, there are no downloads or cumbersome software installations required.
Automatic call distribution
 ACD, refer as Automatic call distribution, is a call center feature that routes inbound calls to employees based on predefined criteria. Time zone, agent availability, skill set, and inbound callers are examples of such factors. 
Automatic call distribution ensures that inbound calls are routed to the appropriate person from the start, reducing the number of call transfers and reroutes required to meet a caller's needs.
It significantly improves call center workflows, whether you need emergency routing for your healthcare offices or connects repeat callers with the same agent, they spoke with previously.
Conclusion 
Call center phone system features are critical for dealing with high call volumes and increasing customer satisfaction — contact today's centers must do more than make and take calls. 
Call center features such as IVR, call monitoring, and call routing enables your agents to work more efficiently and provide better caller experiences. There are numerous call center service providers to choose from. And considering the functionality, pricing, and usability, you can make your choice. 
It's simple to use, inexpensive, and packed with all the call center phone system features your company requires to provide excellent support at scale.