Islamabad:-AAA Associates has held a training workshop for its sales staff from March 1st till March 30th at the CineGold Complex, Bahria Town. The newly inducted sales staff from the Job Marathon held earlier this year were primary participants. In addition to the new team, the existing sales personnel also took advantage of the training in large numbers. Sales training and selling methods are continually evolving, and AAA Associates wants its employees to grow by leaps and bounds.
AAA Associates organized a month-long workshop that stressed different modes of sales
AAA Associates firmly believes that a well-trained sales staff should be fluent in communication and be aware of their jobs' social and ethical aspects. The beneficiaries of this exclusive seminar would not only be better sales personnel at present but will go a long way in defining the future of their career. For this purpose, AAA Associates organized a month-long workshop that stressed different sales modes, which is shifting from a mere product or service selling to the study and satisfaction of customer's needs.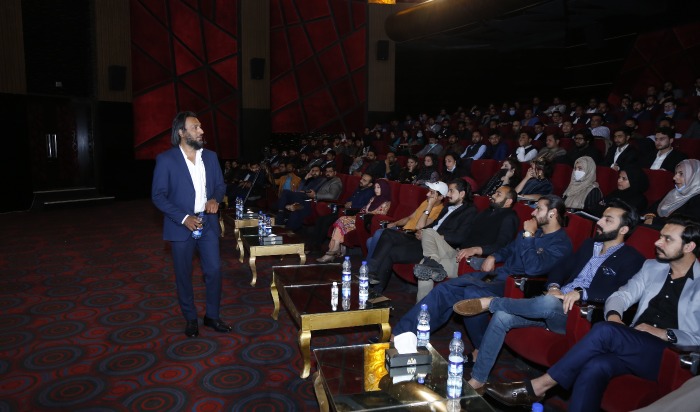 The seminar was addressed by the board of directors of AAA Associates and the motivational speaker Mr. Sahil Adeem. An entrepreneur and a corporate leadership consultant, Mr. Sahil Adeem, was invited for a keynote talk on Sales Training for the event. He emphasized the importance of conducting exclusive training sessions to empower the sales staff to perform their jobs admirably and ethically. He elaborated to the seminar participants, "Growing a business requires more than a good product offering. Salespeople are the face of the organization; they represent the strong brand and have the most immediate influence on customers." He also praised AAA Associates for hosting such workshops, which assist the firms and the workforce.
The important topics discussed were avoiding privacy invasion and intrusiveness, the ethics and clarity of the marketing pitch, modes of marketing, and the personal grooming of salespersons.
While such training sessions are considered essential and mandatory for sales personnel and are often taught at the college level in developed countries, however no such norm exists in the real estate sector of Pakistan. AAA Associates is the pioneer real estate company to introduce a structured training program based on ethics and quality for its sales team to excel in their careers.