Islamabad:-As a commitment to shared success and better profitability with partners, Huawei Pakistan's CEO, Mr Mark Meng, signed an MoU with CNS CEO Najam H. Mian. Being one of Pakistan's top system integrators, CNS believes in their readiness for the ever-changing technology world and driving digital transformation using trending technologies.
CNS partnered with Huawei to develop ICT solutions for the corporate and commercial markets of Pakistan
CNS joins hands with Huawei to deliver ICT technology solutions to Pakistan's corporate and commercial market, enabling both large enterprises and SMBs to avail latest technology products and solutions on a fast track digital transformation journey.
Check Also – PTCL launches cutting-edge cyber security services for corporate customers
Mr Najam H Mian, CEO of CNS, stated that:" This is a partnership to new levels of cooperation. We are pleased to announce the signing of a growth incentive program with Huawei, which will further enhance the engagement between the two companies and act as a catalyst to motivate the sales team for revenue enhancement. We believe CNS and Huawei can better serve the Pakistan market and provide more safety and reliable network and service for our customers."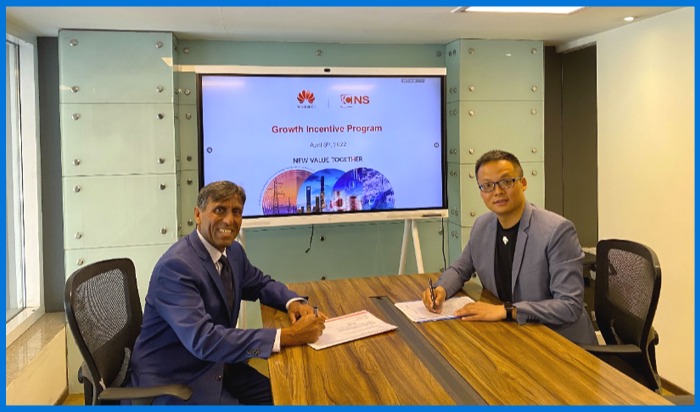 Huawei shows its commitment to growing together with local partners, extending its products and services to the commercial sector. 
Mr Mark Meng, CEO of Huawei Pakistan, also stated on occasion, "In the era of intelligence, the key to a mutually beneficial ecosystem is to enable everyone to use their strengths to create a whole greater than the sum of its parts. Huawei will continue to evolve its ecosystem policies to expand the partner ecosystem, help partners achieve their goals, and provide better support for partners. We will dedicate our efforts to the development, cultivation, support, incentives, and compliance of our partners. Ultimately, we will streamline partner management to build an open, cooperative, and mutually beneficial ecosystem and strive to become the preferred supplier for digital transformation."
Huawei is the chief IT and Telecom equipment supplier in Pakistan. Huawei has established a secure end-to-end ICT solutions portfolio that gives customers competitive advantages in telecom and enterprise networks, devices, and cloud computing.