ISLAMABAD 27 APRIL, 2022: The International Rescue Committee (IRC) has been working in Pakistan since 1980, managing and delivering large, complex programs to meet the needs of health, education, protection, environmental health, and livelihoods for displaced, underprivileged, and disaster-affected communities.
IRC Pakistan Empowering Communities by eliminating their sufferings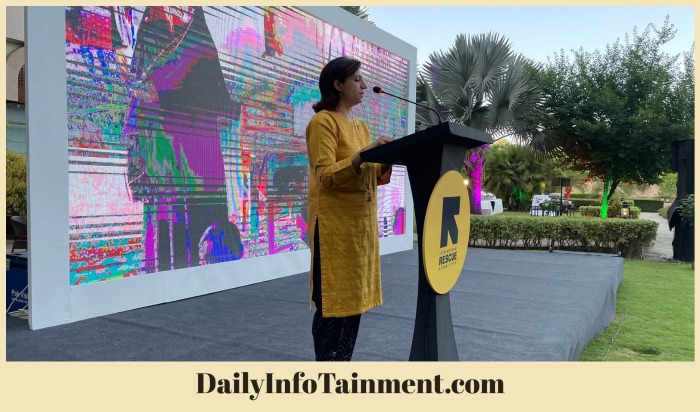 In a bid to highlight IRC's contributions to Pakistan's development and humanitarian sector during the previous year, the organisation hosted the launch of its Annual Report 2021 at Serena Hotel here in Islamabad. Government representatives, members of the civil society, representatives of the development sector, and the organisation's clients were in attendance.
While speaking at the event, Kumaria, one of IRC's clients who benefited from its interventions, mentioned, "We were always aware that the results are multiplied when we work together. However, it was not until IRC started implementing our area and gathered us all in one group that we started taking joint actions. They called us WASH Jirga; for us, it felt great since women are not normally part of jirgas in our communities. We are now working together to resolve issues in our areas – we have a collective voice that has more impact. The areas that we are working on primarily involve WASH governance, but the way we have been empowered has gone a long way in enabling us to take actions for ourselves."
Check Also – Huawei: Innovating nonstop for a greener intelligent world
Ms Shabnam Baloch, Country Director at IRC Pakistan, while shedding light on the organisation's work, said, "At the IRC, meaningful participation of clients receiving relief and services is a prerequisite for moral, effective programming. People's empowerment is enhanced by participation, as is mutual trust between clients and assistance and service providers. We aim to put clients at the centre of all our efforts."
In the year 2021, the International Rescue Committee Pakistan served 33 million clients in coordination with the Government of Pakistan and with the support of its donors and partners. In 2021 IRC inked and maintained successful partnerships with the relevant government departments, namely, National Disaster Management Authority (NDMA), Provincial Disaster Management Authority (PDMA), KP, Director General Health Services (KP), Primary & Secondary Health Department (Balochistan), Social Welfare, special education, Literacy, Non-Formal Education and Human Rights Department, (Balochistan), Primary and Secondary Health Department (Balochistan), Secondary Education Department (Balochistan) and Public Health and Engineering Department (KP) amongst others.
Dr Aurangzeb, Emergency Response Coordinator, Medical Emergency Resilience Foundation (MERF), shared his views on how the International Rescue Committee sustains and empowers its local partners. "Our partnership with the International Rescue Committee commenced in the middle of a global pandemic. But together, we served around 142,569 people through the top-notch COVID-19 Isolation centres we set up.  We continue to work together, reaching out to marginalised communities in some of the most difficult areas. International Rescue Committee has fostered a collaborative relationship, ensuring that MERF feels valued, exactly how we envision working with our partners."
While speaking at the occasion, Noor Begum, one of IRC's clients from district Swat who had benefitted from a project implemented to address the health and safety needs of women during the pandemic, shared, "IRC has helped in empowering and improving the lives of young girls in my community by offering health-related medical services, awareness, and vocational training. One new thing for my community and me was that psychological issues like depression are not taboo and can be easily addressed through counselling. I attended awareness sessions on female-specific medical concerns and issues about their reproductive and mental health, which have transformed my views about these issues. Some of the basic things I had never known. I now encourage other women and girls in my community and support them in their empowerment."
The International Rescue Committee's programming in Pakistan is carefully aligned with governmental priorities and policies. This has allowed IRC to continue working in principled and collaborative partnerships with government entities across Pakistan.
"We are working to empower communities by eliminating their sufferings through evidence-based programming," stated Ms. Shabnam Baloch.