Lahore – 26 April 2022 – Infinix, a global brand, has announced their latest campaign to enable underprivileged youth to hone their skills for the fast-paced tech world under 'Express your Generosity.'
For this CSR initiative in collaboration with SOS Children's Villages Pakistan, one of the most prominent NGOs working for the welfare of children and youth, Infinix is equipping their new facility with a state-of-the-art computer lab by donating their latest InBook laptops.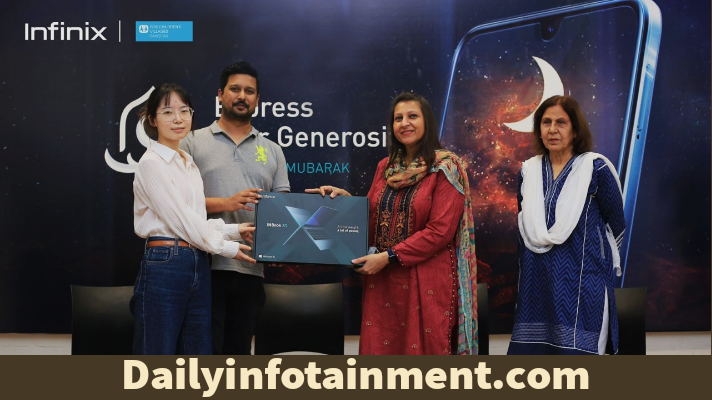 With the help of this computer lab, residents of the SOS Children's Villages will have access to unsurmountable knowledge and a practice ground to work on developing the required tech skills for the future. These efforts come as a meaningful and prompt gesture that demonstrates the company's concern for the social welfare of society.
Talking about this initiative, the Marketing Director of Infinix Pakistan, Mr. Saad Shams, said, "Infinix as a brand emphasizes the development of the digital economy as one of the largest contributors to our gross domestic product (GDP). We feel all of us have a part to play in developing the digital skills of our youth on a grass-root level. Our collaboration with SOS Children's Village is a part of a larger role that these children will play for the future of our country."
"On this occasion, I would like to express my congratulations and thanks to Infinix Pakistan for successfully implementing this digital empowering initiative at SOS Children's Villages Pakistan. During the past few years that Infinix has established itself in Pakistan, we have witnessed various telecommunications projects and CSR initiatives developed due to its support of the local economy. Now we see their contribution to the education sector to empower youth," said Ms. Saba Faisal, National Director SOS Children's Villages Pakistan.
The company remains committed to ensuring everyone has a right to education and believes that technology can help bring learning resources to where they are needed most to support education development.
About Infinix:
Infinix Mobility is an emerging technology brand that designs, manufactures, and markets an expanding portfolio of devices worldwide under the Infinix brand, founded in 2013. Targeting Generation Z, Infinix focuses on developing cutting-edge technology embodied in meticulously designed mobile devices that offer refined style, power, and performance. Infinix devices are trendy and attainable, with the end-user at the forefront of every step forward.

With "THE FUTURE IS NOW" as its brand essence, Infinix aims to empower today's youth to stand out from the crowd and show the world who they are.

The company's portfolio of products is sold in more than 40 countries worldwide, covering Africa, Latin America, the Middle East, Southeast Asia, and South Asia. Expanding at a phenomenal rate, Infinix grew an unprecedented 160% during 2018-2020 and had huge plans to continue creating flagship-level devices offering striking designs and strong value propositions.