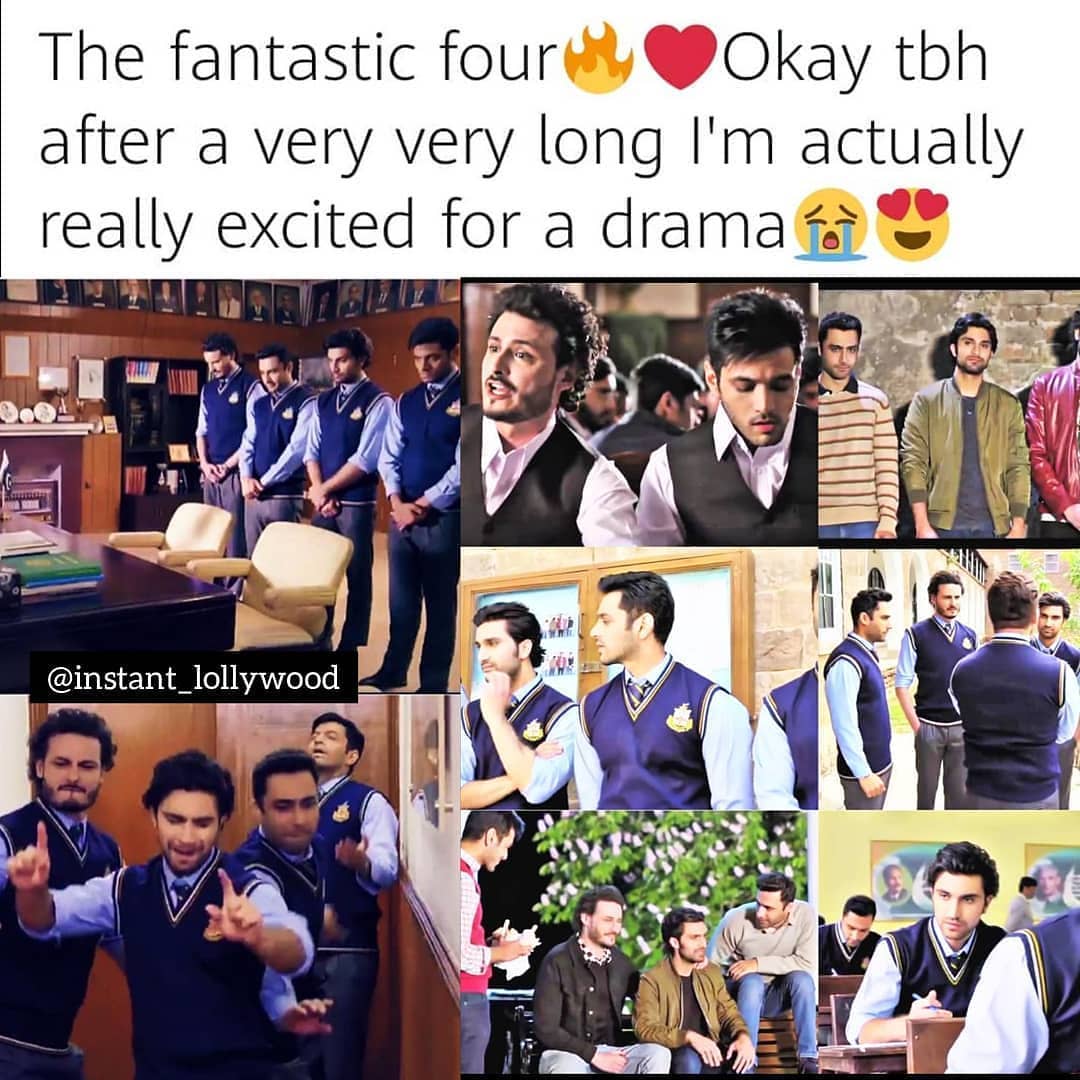 Earlier we reported that Osman Khalid Butt, Ahad Raza Mir, Ahmed Ali Akbar and Wahaj Ali will be seen in a drama together. Titled Ehd-e-Wafa, HUM TV has released the drama's first two teasers which tell "the story of true friends on their journey of hardships and hustle, willing to sacrifice for their country".
The teasers are a breath of fresh air in a plethora of television plays about societal taboos and family issues. We see four friends enjoying a carefree life at Lawrence College in Murree. Like any other college student, they are playing usual pranks on each other. It is a delight to see Osman playing a happy-go-lucky character after his portrayal of Amaan in Surkh Chandni. Alizeh Shah is playing Ahad's love interest. We are quite eager to find out more about Ahad's character as he clearly impressed us with the few dialogues in the teasers.
Read: Exclusive: Here's the truth behind Osman, Ahad, Ahmed & Wahaj's viral picture
[post_ads]
We also reported that the drama has one connection with Alpha Bravo Charlie. Actor Faraz Inam, who played one of the lead roles as Faraz Ahmed in the classic play,will be seen playing a high ranking officer in the drama. Though we didn't find him in these teasers. Other than the leads, Zara Noor Abbas, Hajra Yamin and Vaneeza Ahmad are also a part of the cast.
Earlier we wrote that the 'SSG' written in the caption of the picture shared by Osman and Co. may have been a hint at at Pakistan Army Special Service Group commandos, but by the looks of it, we have a feeling it is the name of a their 'gang' at college as Osman says in the teaser, "There are three principles to join SSG; loyalty, honesty and secrecy." Guess we have to wait to find out the actual story.
Written by Mustafa Afridi (of Aangan and Sange Mar Mar fame) and directed by Saife Hasan, Ehd-e-Wafa will on air on HUM TV soon.
[post_ads_2]