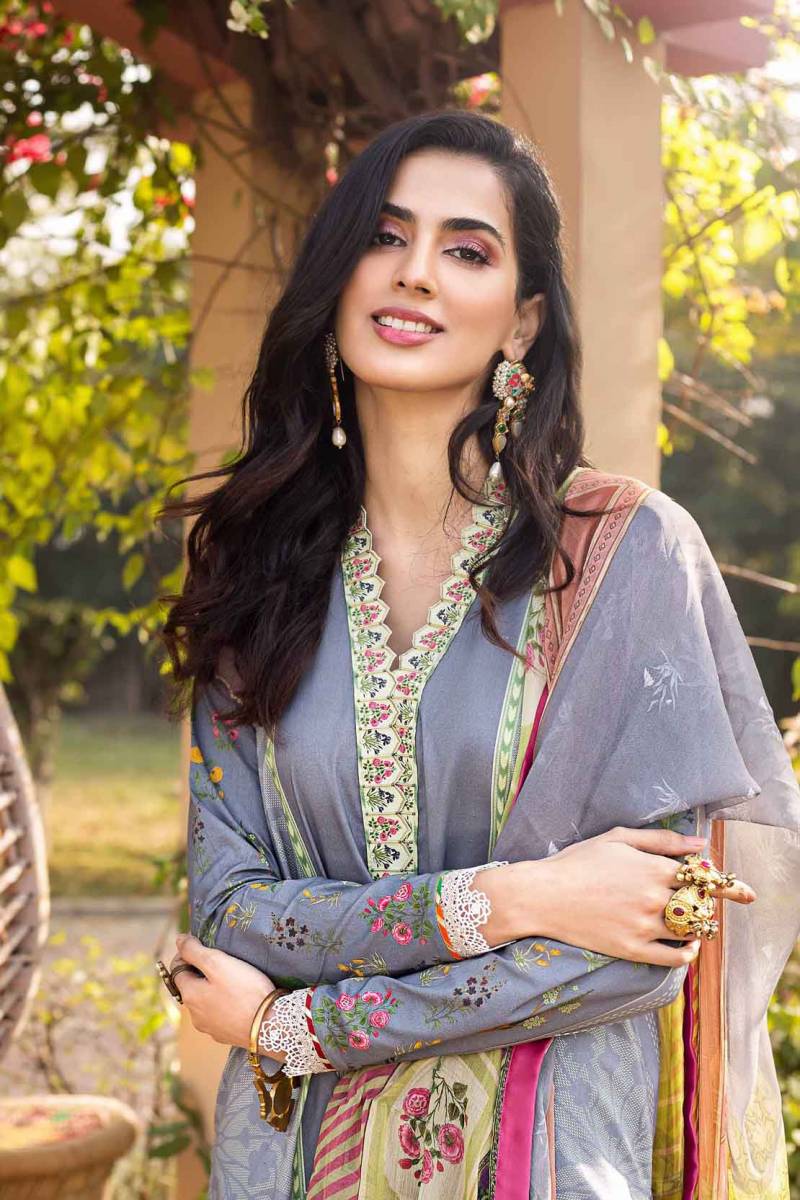 The signature style of Afsaneh is ethnic, cultural, and traditional. They believe in delivering their message to everyone and all around the world and across  Countries through their craft. Their craft speaks of their style and tradition, their beliefs, and their ethnicity. They have a considerable collection divided into a different segment, separating the formal, semi-formal, festive and casual dresses and prêt.
This collection has such beautiful and eye-catching patterns, and keen interest has been taken to make them represent our desi Pakistani culture and style. 
The work done on these dresses, the embroidery, thread work, and even the prints are done with such professionalism and perfection that one cannot ignore the hard work and passion that must be the reason and beyond this beautiful creation.
We loved these dresses with all our hearts and really wanted to share these with you so you could also avail of the opportunity to buy these dresses.
Let's have a look at this little composed collection of ours and give us feedback if you also liked it as we did or not.
Afsaneh Ready To Wear
Red Gold Formal Dress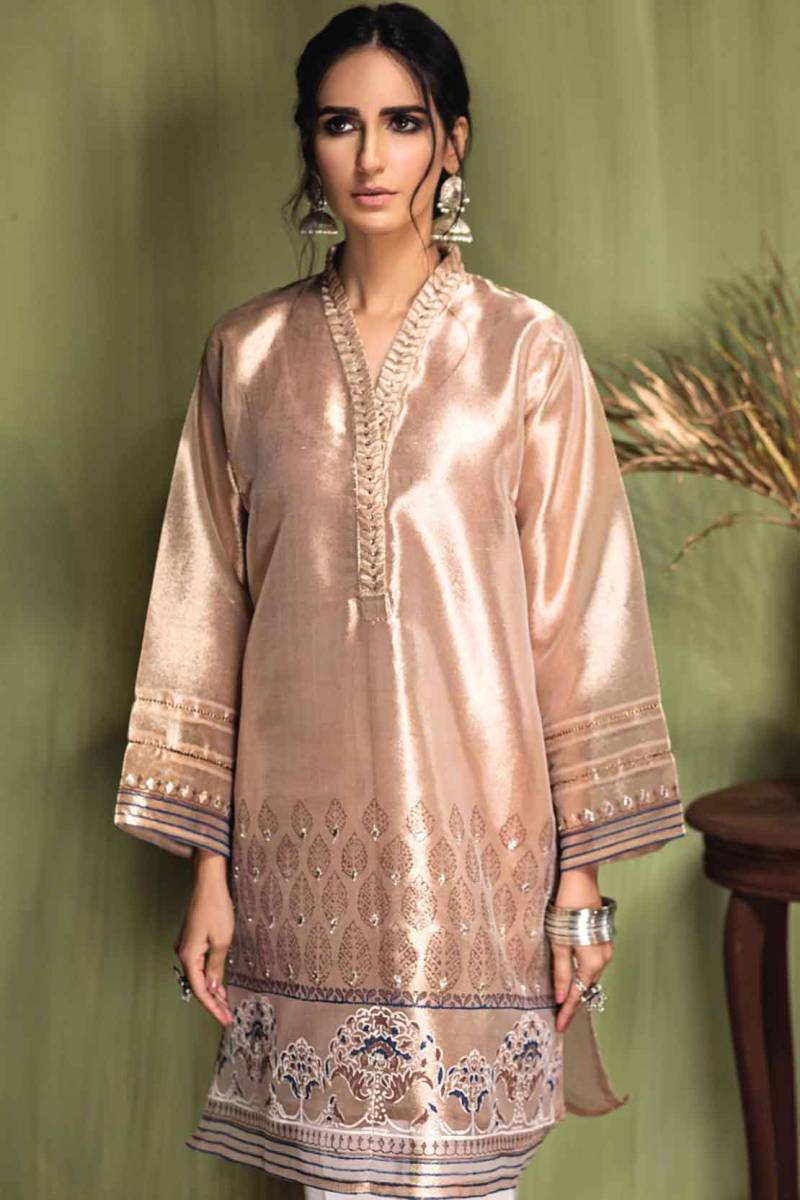 Afsaneh formal stitched collection has this beautiful shirt having the medium length and basic cut. 
This shirt in pure tissue fabric has block print all over it with V neckline and light work over it. 
It also has embroidered and laced work at the borders and sleeves. 
This shirt would look elegant at any formal event.
Price: 6590
White Embroidered Dress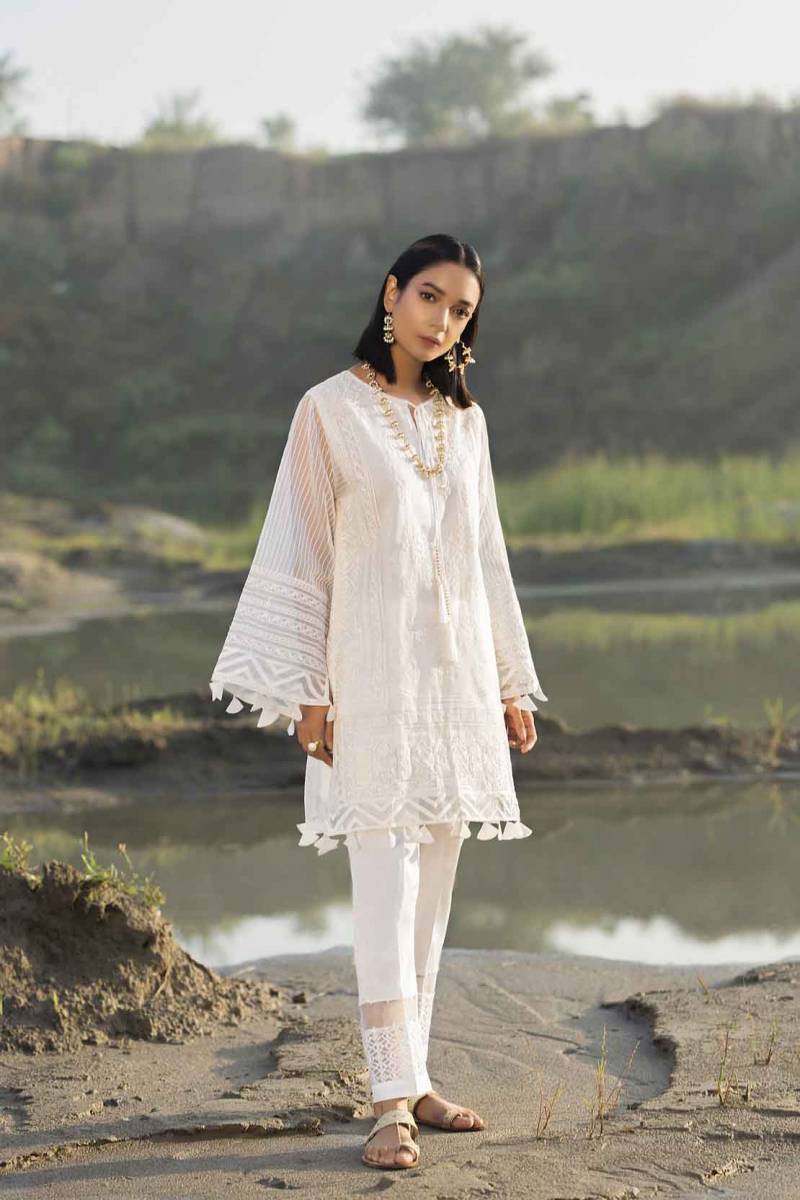 Buy this beautiful and majestic looking kurta from Afsaneh unstitched and ready to wear clothing. This prêt kurti is made of synthetic organza fabric and has light embroidery all over it. This white dress has open loose sleeves with cutwork on them and the same as tassels at the border of the kurti.
Price: 7250
Block Printed Dress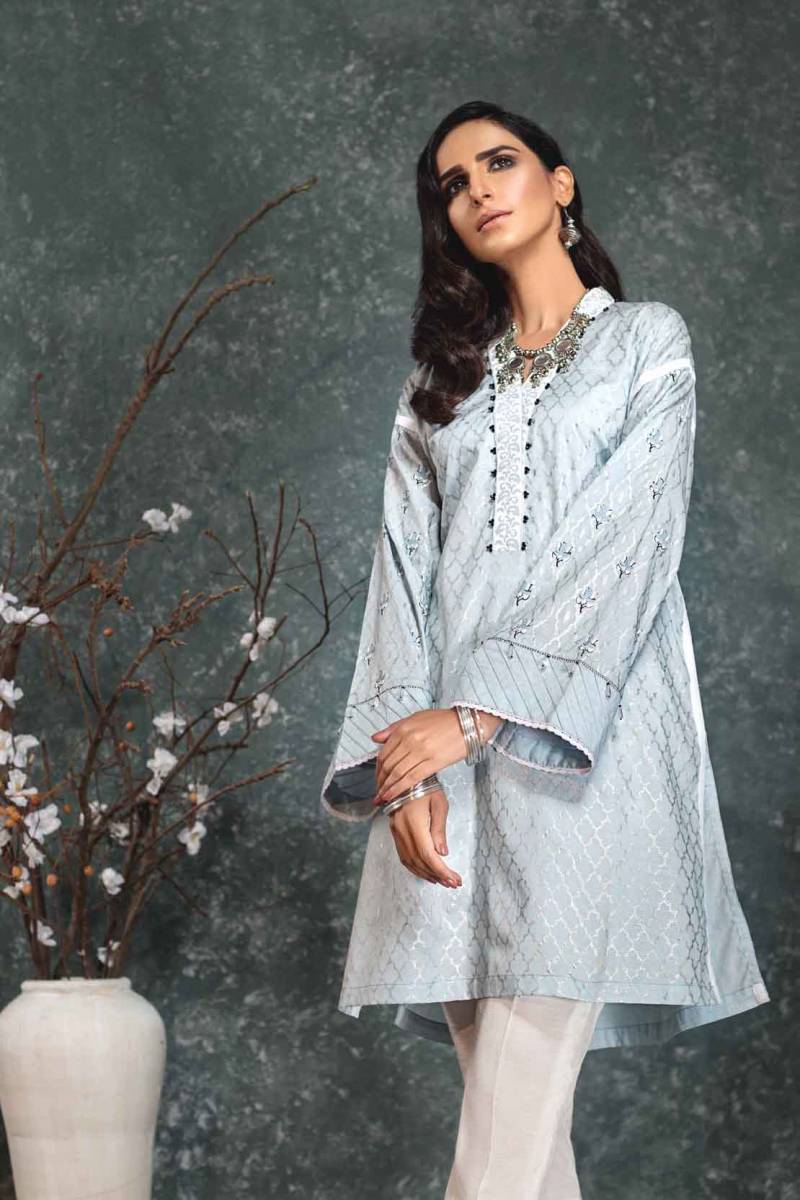 This beautiful designer kurti has block print all over it. Made into a medium length high low shirt, this ice blue dress has embroidered sleeves and neckline with full lace around V-shaped neckline. This shirt looks light and decent and can be work on any morning or evening event.
Price: 4190
Maroon Gold Embellished Dress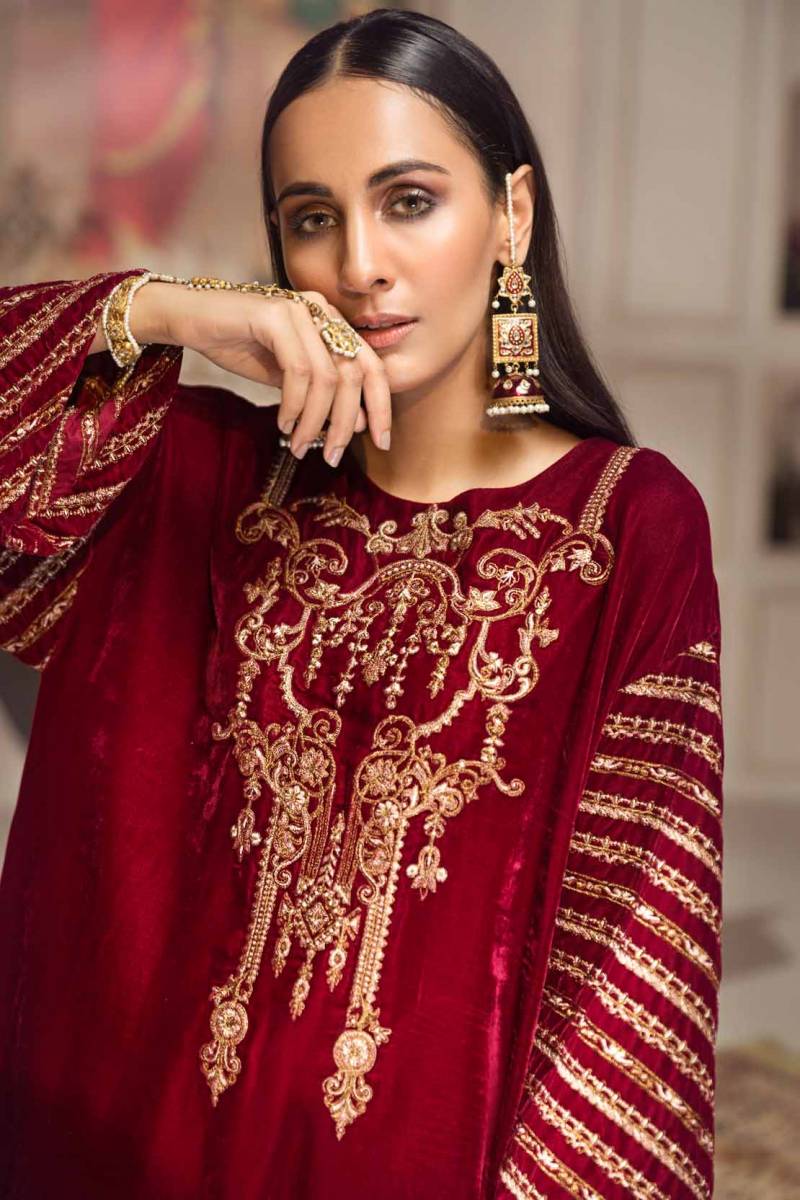 This beautiful formal wear dress in maroon has our heart.
It is a perfect traditional dress for Pakistani events.
This dress has beautiful gold dabka embroidery on the front and sleeves.
The gold embroidery looks just too beautiful on synthetic velvet and makes this kurta to stand out in their collection.
Price: 8490
Afsaneh Eid Collection 2020
Purple Jacquard Kurti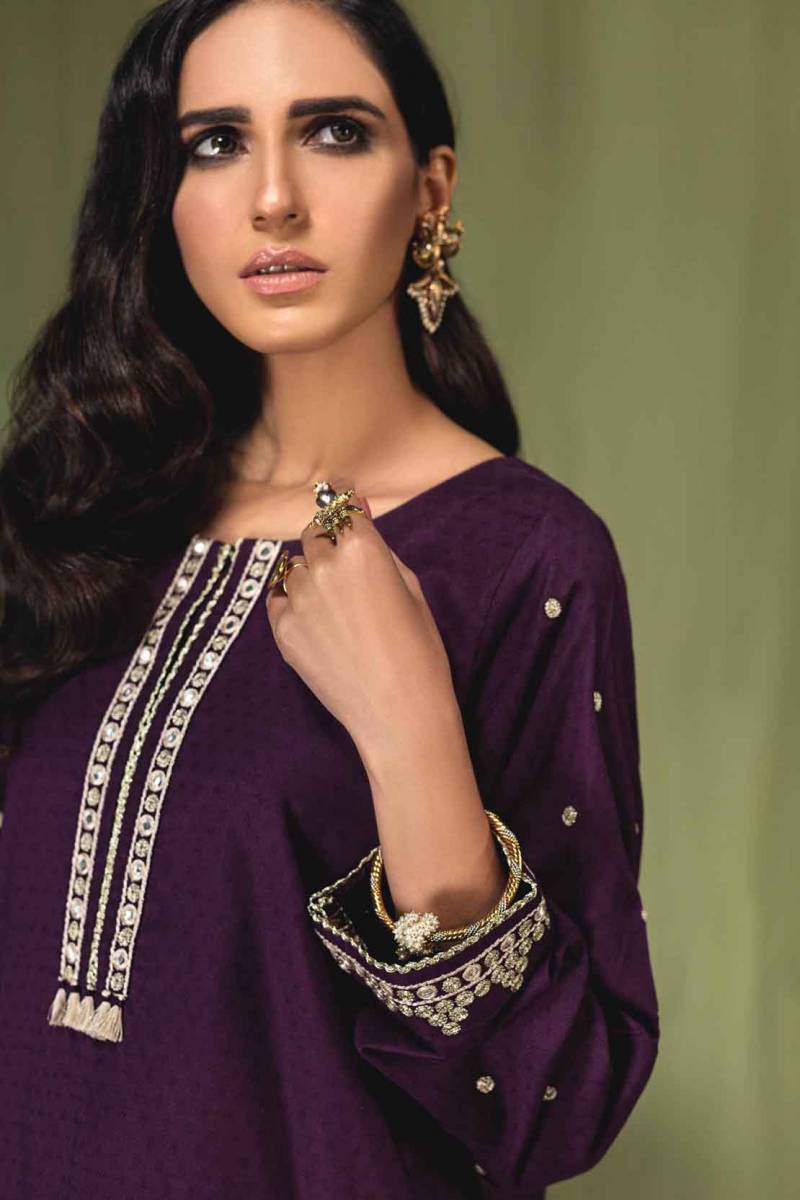 This beautiful self jacquard prêt kurti by Afsaneh is so elegant, and pretty one could wish to have it. This kurti has a round neckline with embroidery in white on it. The sleeves are also lightly embroidered, and the combination of the two colors looks extravagantly stunning.
Price: 3470
Khaddar Embroidered Dress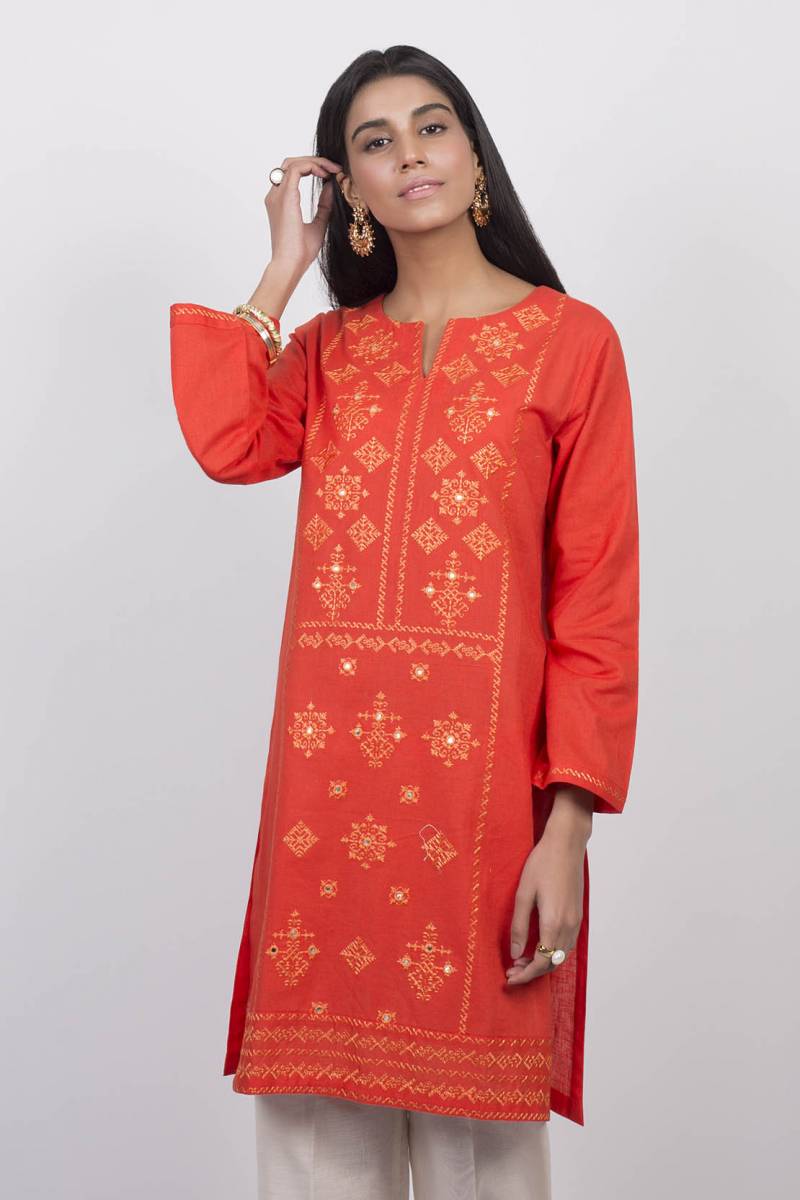 This khaddar kurti from prêt collection has such an eye-catching color. In neon orange, this kurti just looks too pretty. It has embroidery all over it with medium length and fit. It has a round neckline with a slit on it and full sleeves. Also, it is available at a reasonable price.
Price: 3490
Embroidered Pakistani Dress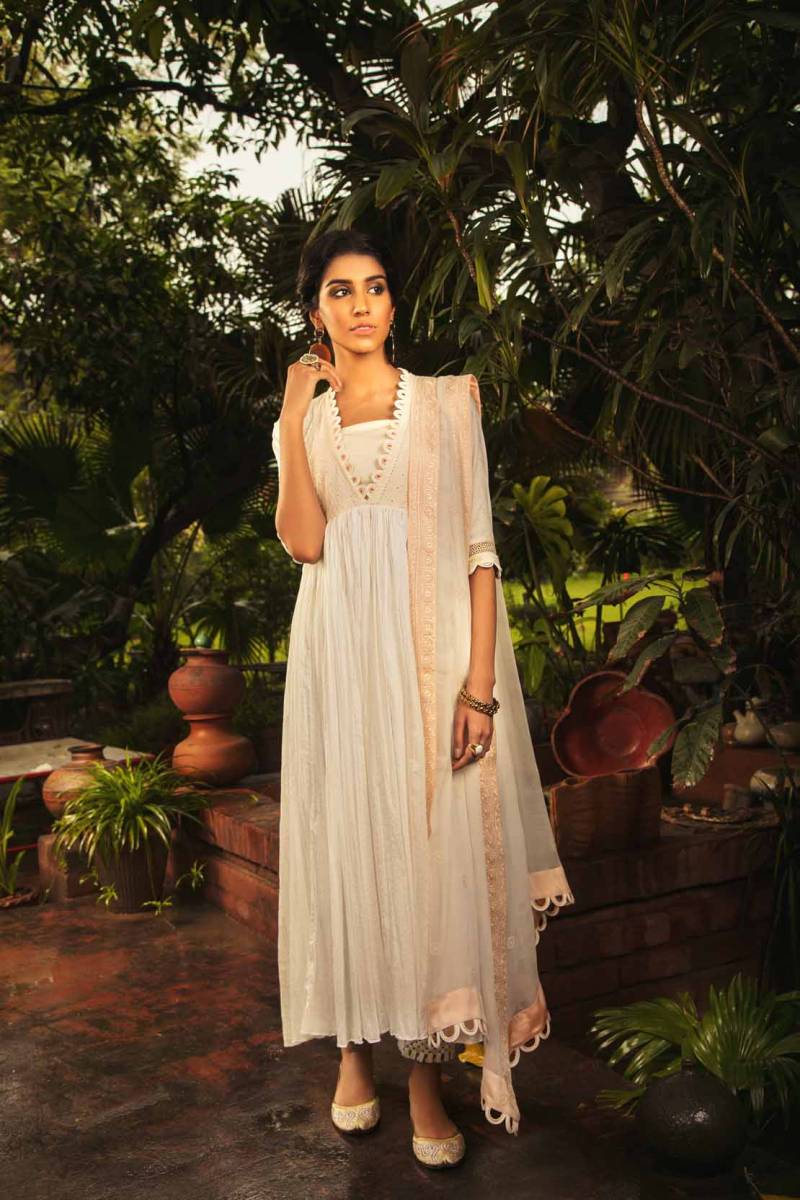 This beautiful dress having beige color by Afsaneh is available to be stitched.
This dress from the unstitched collection can be made into a frock and have embroidery all over it.
It comes with plain cotton back and a crinkle chiffon dupatta with embroidery on it that makes this dress more pretty and traditional.
Price: 5650
Bluish Grey Cambric Dress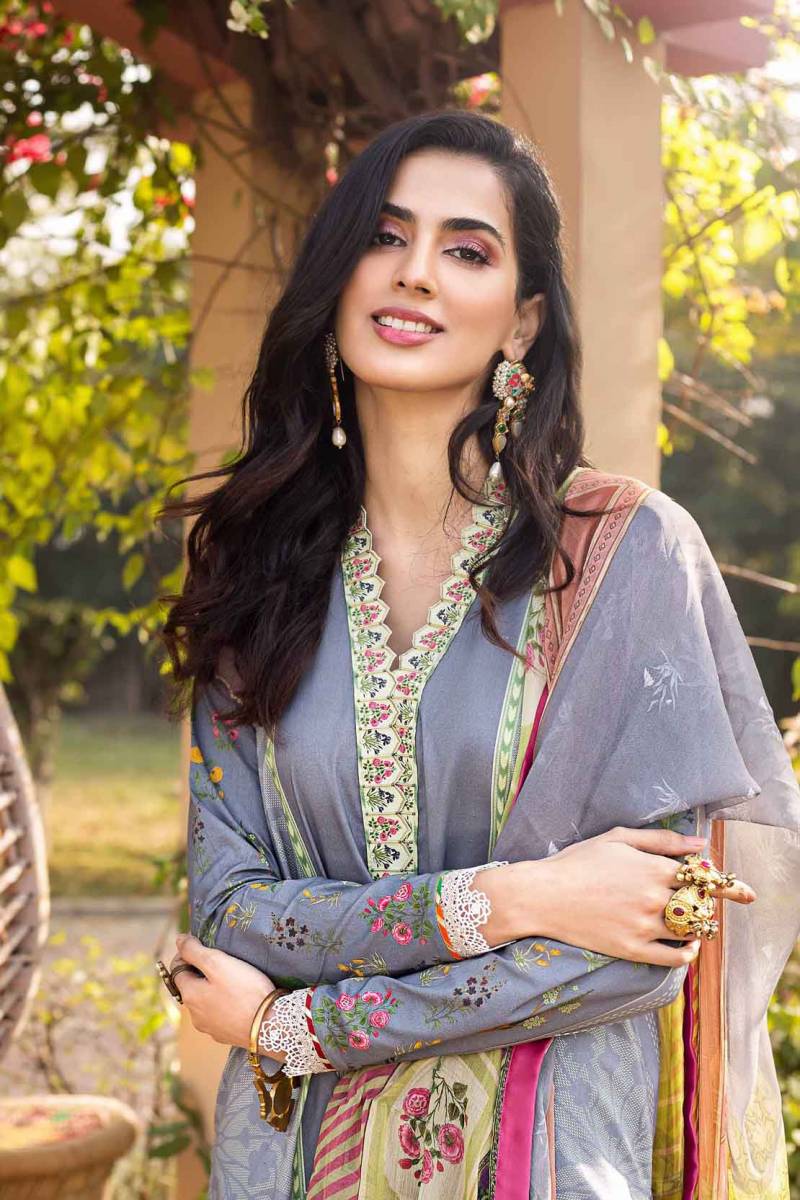 Buy this beautiful designer dress having a bluish-grey shirt in 2.5 meters. This shirt is made of cambric and has digital print over it and an embroidered patti for the neckline. It comes with an embroidered chiffon dupatta and plain trousers in dyed.
Price: 4990
Afsaneh Brand Islamabad And Multan
Black Pakistani Dress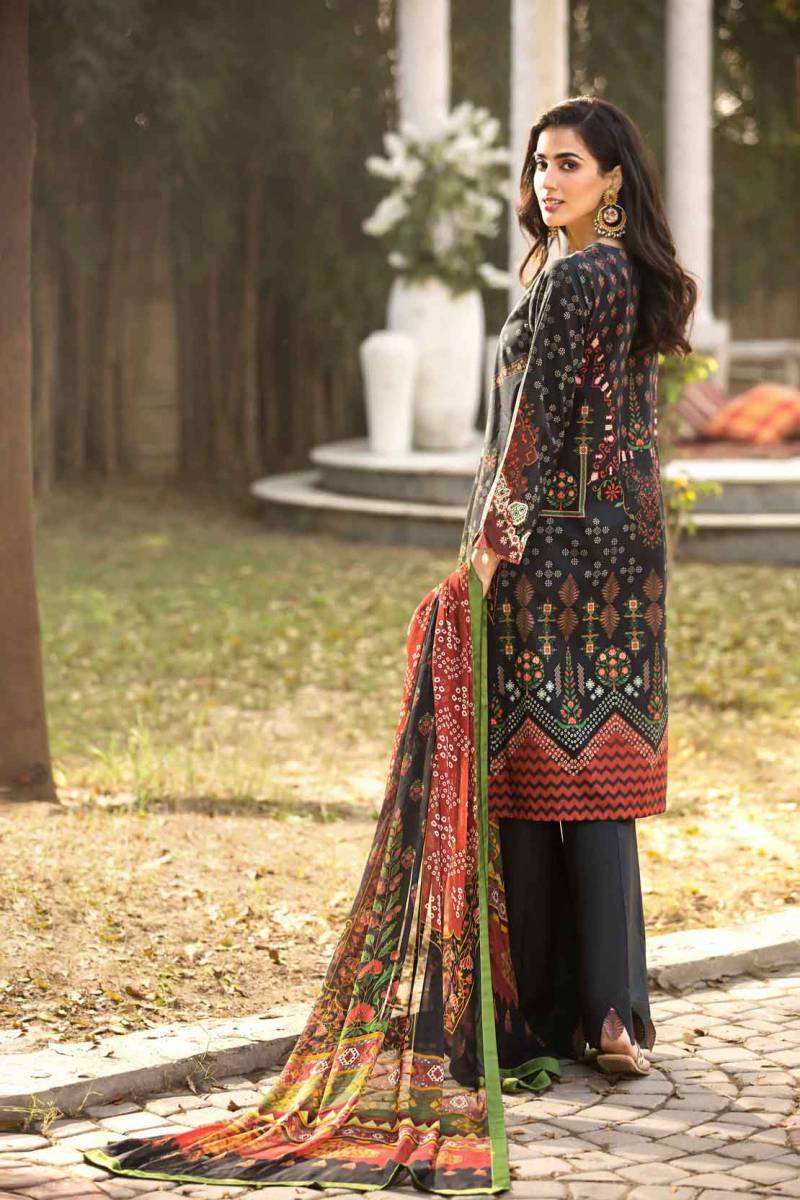 A pretty black suit in cambric can be anyone's favorite. This dress has beautiful digital print all over it and comes with dyed black trousers. It also has an embroidered patti to enhance the beauty of this dress. To complete the look and compliment the look, it has crinkle chiffon dupatta.
Price: 4590
Afsaneh 3 Piece Unstitched Suit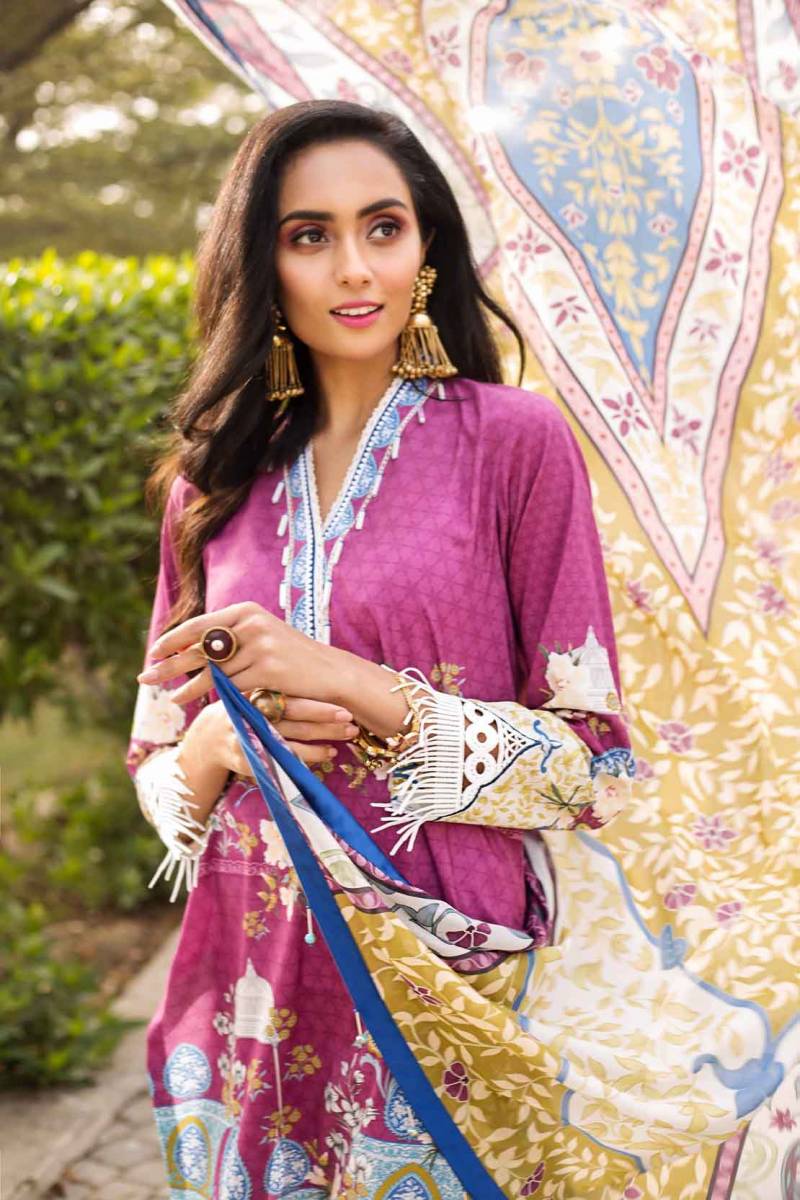 This beautiful dress has a basic three-piece style by Afsaneh unstitched and ready to wear clothing collection. It has a digital printed cambric shirt and dyed trousers and comes with a lawn printed dupatta. This pretty dress also comes at very reasonable pricing.
Price: 3490
Final Words
This collection has all types of clothes from casual to prêt and luxury and formal to semi-formal for you to make available according to the event and requirement.
This collection so heartily represents the style, ethnicity, culture, and traditions of Pakistan.
Each dress speaks of its roots and tells a story of its belonging.