Gorgeous Mahira Khan, Sana Javed & Gul Panra will Support Peshawar Zalmi in HBL PSL 2019…!!!
The game of competition among the strongest teams of Pakistan provinces has been started in this month. The HBL PSL 2019, starting from February 14, 2019 in UAE in which Islamabad United, Lahore Qalandars, Peshawar Zalmi, Multan Sultan, Quetta Gladiators and Karachi Kings would play the high competitive matches against one another. In this regard, three Pakistani celebrities joined the Peshawar Zalmi team and become Ambassadors of this team. For HBL PSL 2019 three most gorgeous ladies of Pakistan industry become the brand ambassador of Peshawar Zalmi team, as Mahira Khan, Sana Javed and Gul Panra are now the ambassador for this team. Mahira Khan has been announced for the second time as the brand ambassador of Zalmi's and Sana Javed & Gul Panra are announced for the first time ambassador for Zalmi Team. The Chairman Peshawar Zalmi Jawed Afridi announced this news via his social account. The complete details about the brans ambassadors of Peshawar Zalmi for HBL PSL 2019 are given below.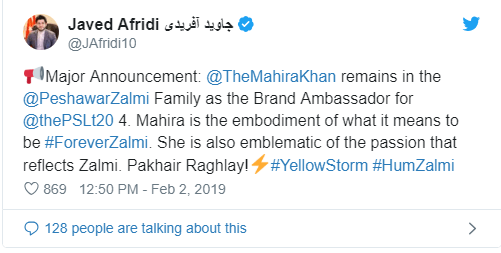 Pakistani Celebrities in Thrilling Matches
Here is a good news for Peshawar Zalmi team regarding HBL PSL 2019. The good news is that Pakistani celebrities are also love the cricket matches and they also become the part of those teams and support them. Three more stylish and gorgeous Mahira Khan, Sana Javed and Gul Panra has announced the brand ambassadors of Peshawar Zalmi for HBL PSL 2019.
Mahira Khan was also nominated as an ambassador in HBL PSL 3 and was also present to support the Zalmi team in the matches that were played in Dubai. Now she is also again announced as the ambassador for Zalmi. Along with Mahira, the most innocent and beautiful Sana Javed and Gul Panra are also selected as the Brand Ambassador for Peshawar Zalmi in HBL PSL 2019.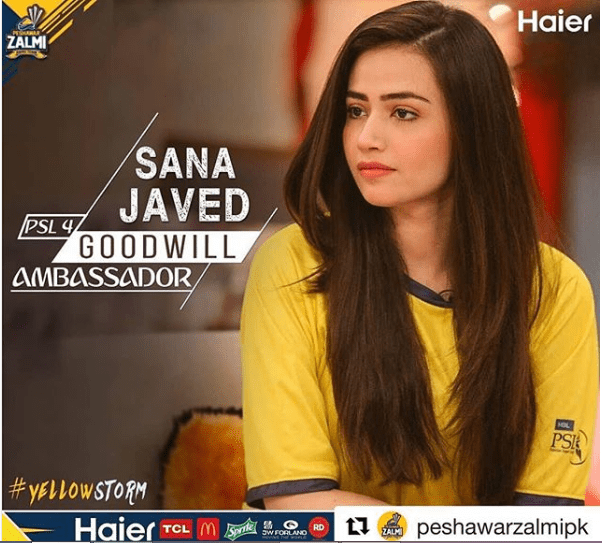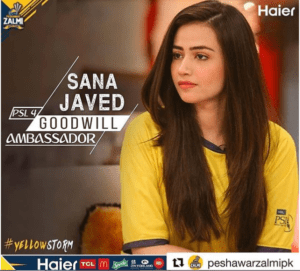 The Pakistan Super League 2019 Anthem has been sung by Fawad Khan and it is not liked as much by the audience.
A tweet also posted in which the Peshawar Zalmi team would present their anthem on February 4, 2019 in Peshawar. The HBL PSL 4 2019 would start from February 14, 2019 in which the first match would be played between the Champions Islamabad United and Lahore Qalandars. Total 6 teams would play in the HBL PSL 2019, the initial matches would play in UAE and other matches would play in Lahore and Karachi.
All these three gorgeous ladies would be there to support the Peshawar Zalmi on the day of matches. So, don't forget to watch the thrilling and competitive matches among all these teams.