Syeda Tuba Aamir, known to the public as Aamir Liaquat's second wife, married the political scholar in 2018. Amidst a lot of controversies and allegations from Aamir Liaquat's first wife and family, Tuba stayed steadfast and supported her husband throughout.
[post_ads]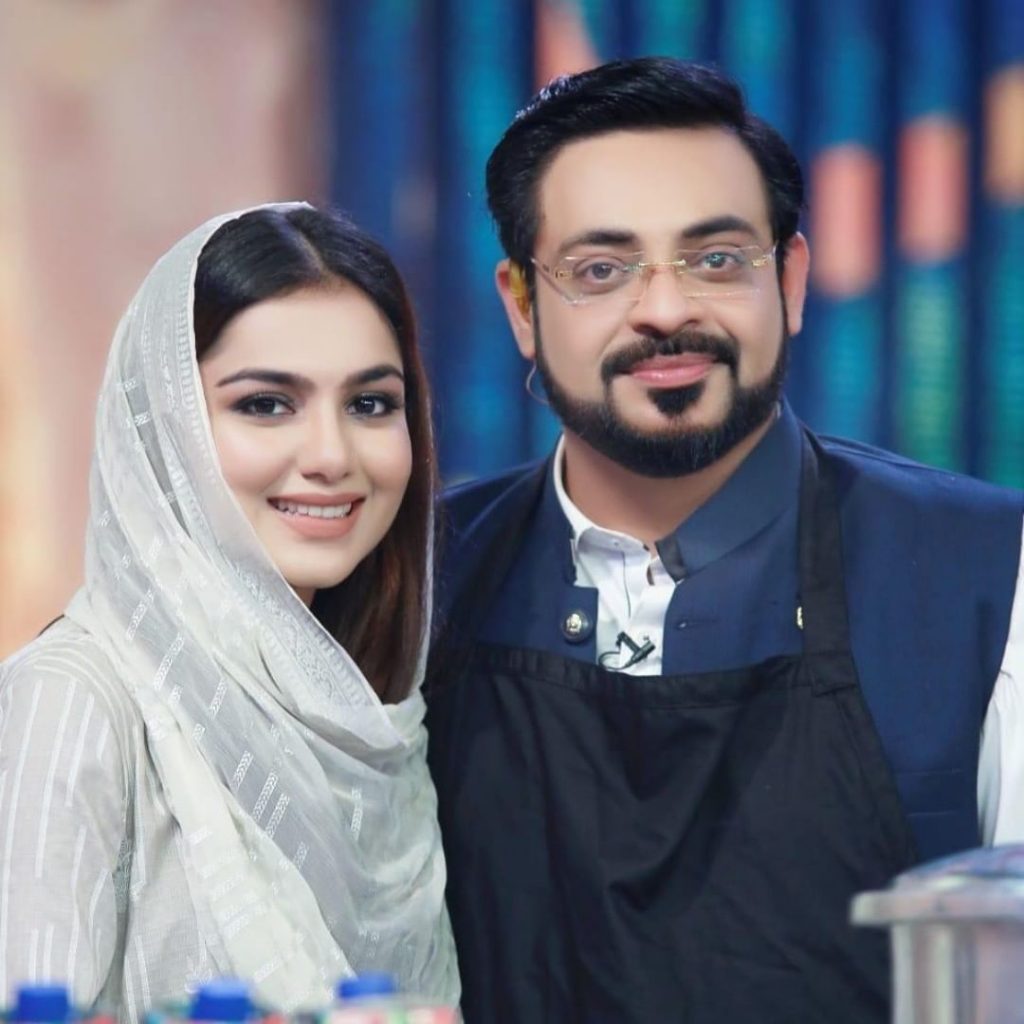 Tuba Aamir's loyalty to her husband Aamir Liaquat is exemplary and therefore she is often found schooling trolls who dare question her choice of marrying Aamir Liaquat Hussain.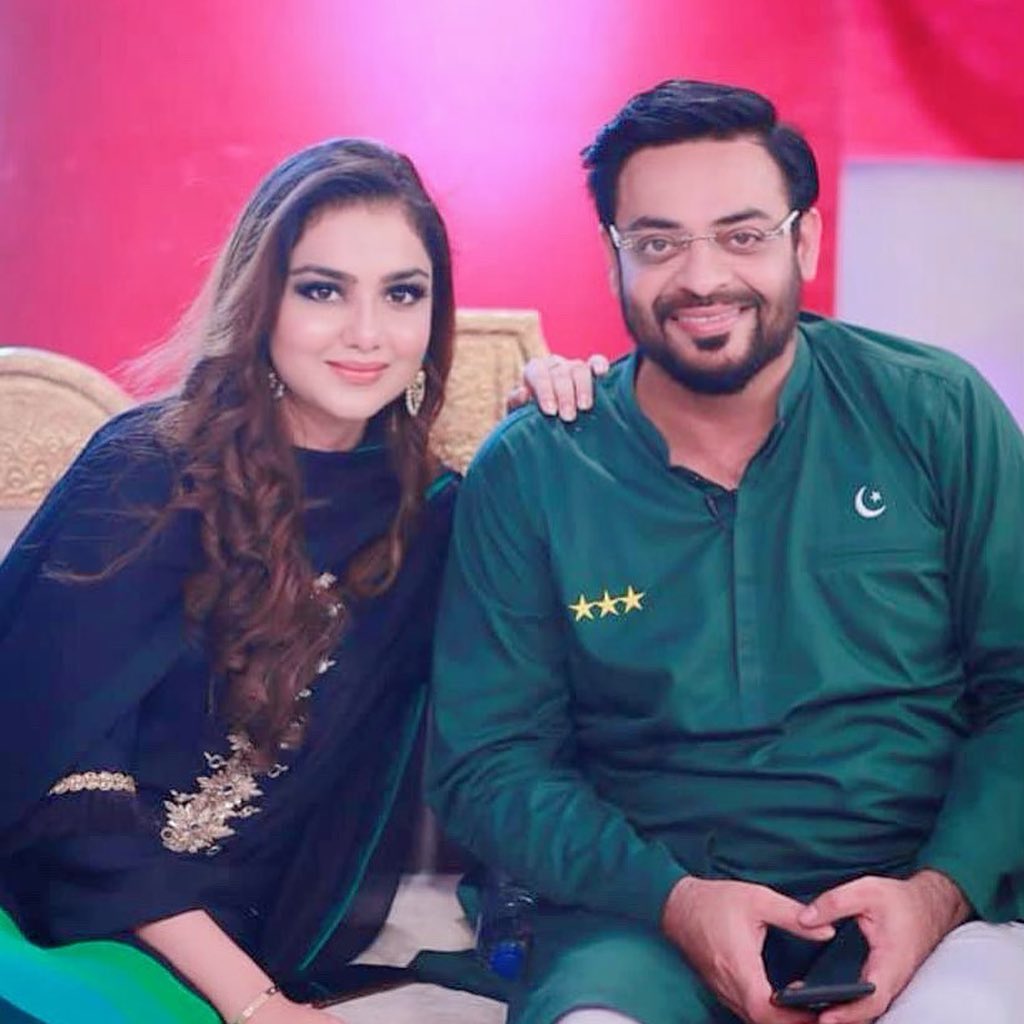 Recently, again when Tuba was questioned about the reason she choose to marry Aamir Liaquat, the lady set scores straight with the troll, answering them very bluntly and in the tone they most understand.
When one trolled questioned Tuba about her reason for marrying Aamir when there were a lot of other better people in the world, Tuba, wholeheartedly answered, "He is one of the best from amongst the very best of people in the world."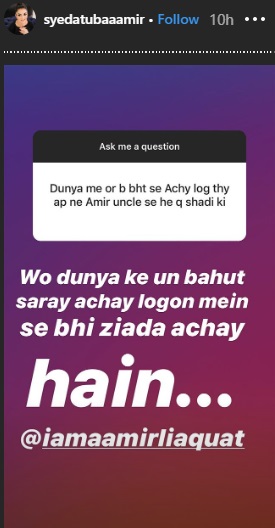 To another troll who questioned whether Tuba was waiting for Aamir Liaquat to pass away so that she could have all his money, she bluntly and boldly schooled the troll reminding him to mind her own business for the best.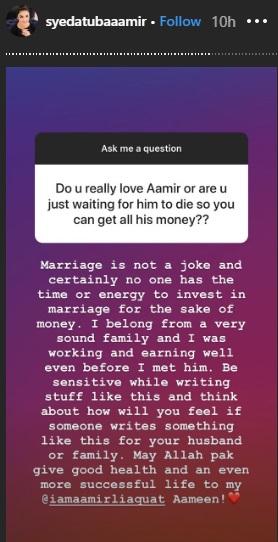 "Marriage is not a joke and certainly no one has the time or energy to invest in marriage for the sake of money. I belong from a very sound family and I was working and earning well even before I met him. Be sensitive while writing stuff like this and think about how will you feel if someone writers something like this for your husband or family. May Allah give good health and an even more successful life to my Aamir Liaquat," wrote Tuba, putting the troll to silence.
[post_ads_2]
Tuba answered about a hundred questions on her Instagram Q and A session. Apart from the trolling of the school, what caught our eye was the fact that Tuba, didn't answer in a Yes or a No when one fan questioned her about her appearance in Pakistani dramas.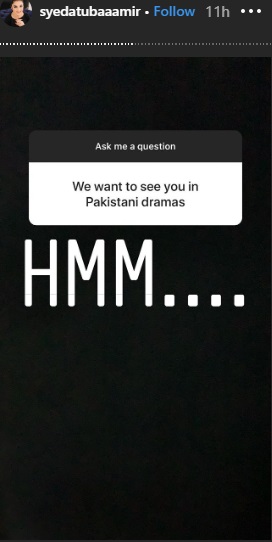 The "Hmm" hinted at something that is cooking behind the scenes. Earlier in an interview Aamir Liaquat had stated that he would want to launch Tuba in the entertainment industry soon. Perhaps this is the right time. Whatever it is, we're eager to see Tuba Aamir on screen, if its happening, because, no doubt, the lady has beautiful features and will be a great addition to the entertainment industry in Pakistan.