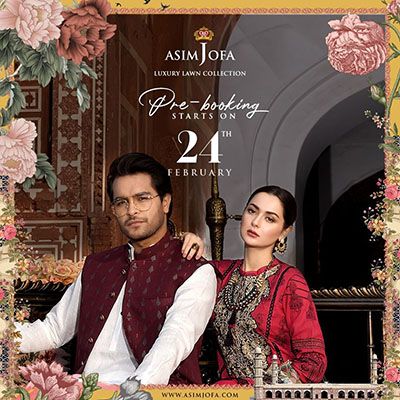 Asim Jofa Fashion Brand has designed the Summer wear Luxury Lawn collection 2020 for women which is look so nice & Beautiful. All these dresses look traditional and its style is New. Asim Jofa is a famous fashion designer who designs outstanding dresses collection not only at the national level but also at the international level.
Lets have a look at few selective dresses and discuss their fabric and style.
This is the Vivid crimson-colored Jacquard shirt with a bold contrast of black and gold weave inspired by ethnic Jhumka motifs and embroidered details on neckline and borders. Creamy ivory printed Silk dupatta and dyed pants complete the look of this traditional attire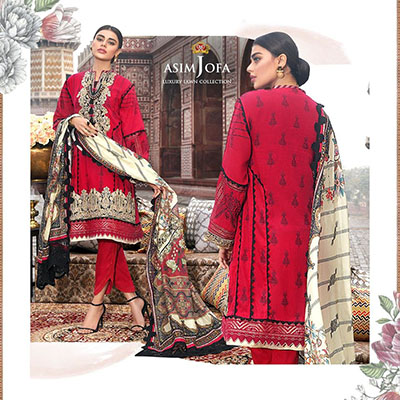 This is Inspired by filigree jewelry design this woven ivory ensemble with hints of black, gold weave and embroidered add-ons exemplify grace. A pop of color is added with a statement printed Silk dupatta giving this design an earthy yet elegant feel.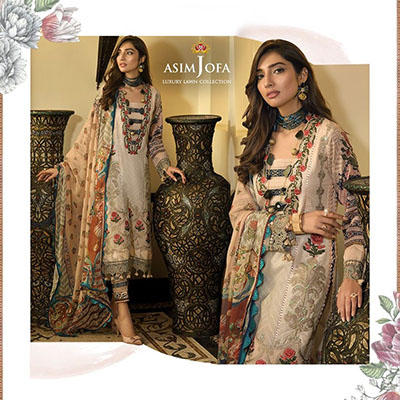 A quirky trouser print complemented by an ochre tonal printed shirt highlighted by embroidery borders and panels and printed Chiffon dupatta. This design will surely glam up your summer wardrobe, pair it with funky earrings and you are ready to roll.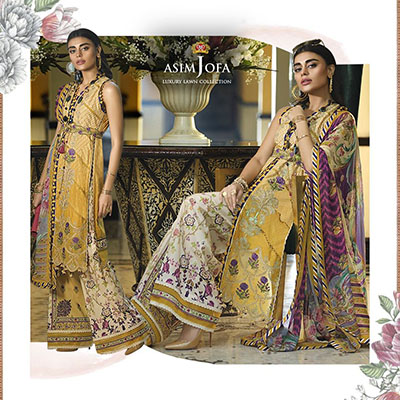 ALJ-02 B offers a blend of soothing colors and intricate embroidery with bold yet classy printed trouser. Dress up in this cool concoction on a hot summer day to beat the heat with style.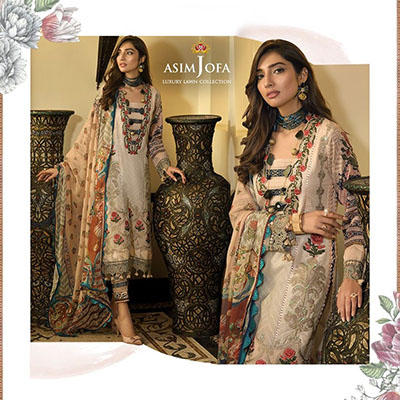 Beat the heat with this modern take on an oriental carpet inspired design, focusing on the intricacy of pattern imbued in muted powder colors of pink, mint, off white with a tonal shirt print adorned with floral embroidery in the thread and pearlescent sequins, printed pants and dupatta.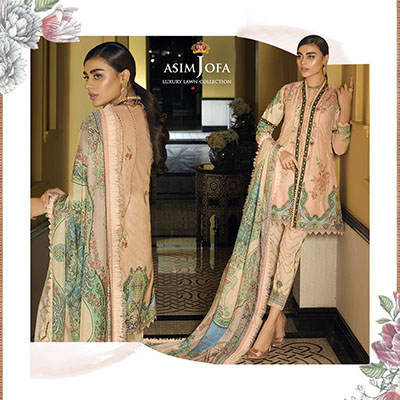 This ALJ-3A Luxury Lawn Collection'20 Exude calmness in this oriental white done in delicate printed borders and sleeves with scattered embroidered bunches in tones of blue decked with sequins. With its soothing color palette and simplistic cut, this design will be the top choice for brunches and tea parties.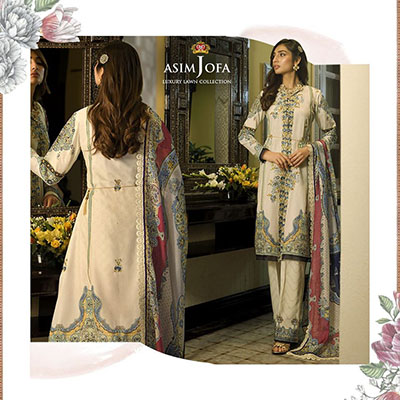 A classy chic mint base creating an intriguing floral display accentuated with mint Organza shirt with pastel-colored floral embroidery with all over booties on back. Adorned with printed Silk dupatta provides the perfect contrast to the uniformity of the shirt and printed pants. This summer embrace this festive look in a refreshing mint hue for your evening.