Amen ceremony was held for Zina, daughter of famous Pakistani actor Hassan Ahmed and daughter of supermodel Sunita Marshall, whose photo and video has gone viral on social media. Actress Sunita Marshall held an Amen ceremony to celebrate the completion of her daughter's Qur'an.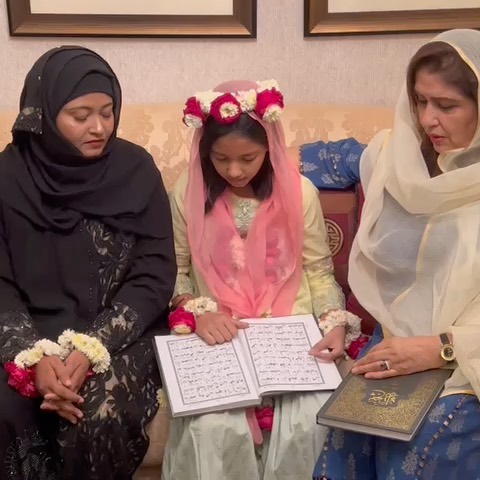 She shared a photo and video with her husband Hassan Ahmed, son and daughter on her official Instagram account.
In the shared video, it can be seen that Zeina is reciting the Holy Quran. Actor Hassan Ahmed had to say in one of his interviews that Sunita and I had decided that our children would follow only Islam at the time of marriage.
Actress Sunita Marshall, meanwhile, said that if there was a Christmas or Christian celebration at my mother's house, my children would attend but would not go to church.
She had said that my father has always been with me in every decision since my marriage to Hassan Ahmed.
The actress married fellow actor Hassan Ahmed in an Islamic way in 2009 and then a Catholic wedding three months later due to her Christian beliefs. The couple has two children, a boy Rakin Ahmed and a girl Zina Ahmed.
We wish her daughter Zina Ahmed and pray for her for a successful future.