With a cricket-themed wedding photoshoot, Pakistani cricketer Kainat Imtiaz takes the internet by storm. While playing cricket, the 29-year-old looks stunning in a deep crimson bridal jora.
Kainat Imtiaz Cricket Themed photoshoot and fans are ecstatic!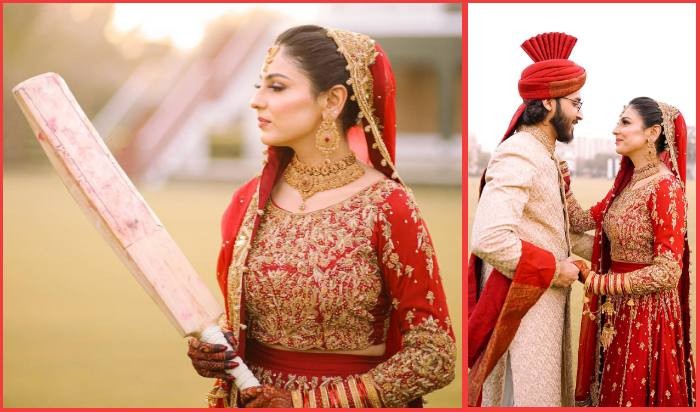 Kainat Imtiaz is a well-known cricketer who plays for Pakistan's women's national squad. The 29-year-old all-rounder has built a reputation as a dependable right-handed batsman and wicket-taking medium-fast bowler.
Her efforts on the home circuit, where she represented clubs such as Karachi, Sindh, Omar Associates, Saif Sports Saga, State Bank of Pakistan, and Zarai Taraqiati Bank Limited, helped her earn an early callup to the national squad.

Kainat Imitiaz married in March, just a few months ago. On March 30, she married her spouse, Muhammad Waqar Uddin, in a beautiful ceremony. In a deep red bridal jora, the Pakistani cricketer looked stunning. Until recently, fans have been waiting for a glimpse of her wedding photoshoot.
Kainat chose something that defines her rather than a standard wedding photoshoot. The Pakistani all-rounder had a wedding photoshoot inspired by cricket that went popular on social media. With a cricket bat in his hands, the 29-year-old appears to be having a great time. There are even photos of her confronting a delivery on a cricket pitch (probably her husband is the bowler).
Fans all over the world fell in love with this adorable wedding shoot. What are your thoughts on Kainat Imitiaz's cricket photo shoot? Please share your thoughts in the comments box below.