Karachi, Pakistan, 10 January, 2022 – Falcon-i has partnered with Quetta Gladiators for the HBL Pakistan Super League (PSL) Season 7. The top fleet management company of Pakistan will be the 'Official Analytics Partner' of the Champion of HBL PSL of Season-4.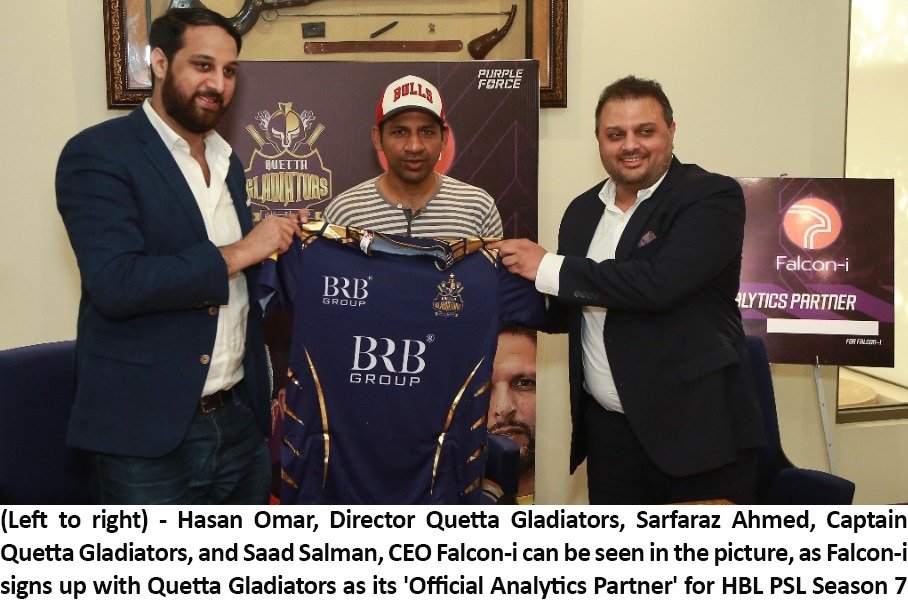 The world is progressing towards technology, and analytics has emerged as the prime tool to gauge the performance of any organization, person, or entity. This helps with the optimization of the resources, hoping to achieve the best results ensuring maximum efficiency.
Check Also – Peshawar Zalmi appoints Mahira Khan as Brand Ambassador
With the trust of 190,000 customers and has over 200 corporate enterprises, Falcon-i's usage of analytics and telematics support is directly in line with the vision of Quetta Gladiators who also use data analytics to measure the players' performance to extract optimum results from the team, allowing fans to enjoy quality cricket.

Saad Salman, Falcon-i's CEO said, "The first-ever radio commentary for cricket happened in 1922. Technology's come a very long way since then. From on-field tech to player analyses the game has evolved to a much more enjoyable, engaging level. And we're thrilled to be a part of it"

On the successful collaboration with Falcon-i, Director Quetta Gladiators, Mr. Hasan Omar expressed his views that it shows the success of the Pakistan Super League as a brand that more companies are getting into folds to partner with the franchises and Falcon-i has partnered with the Champions of the Pakistan Super League, The Gladiators which will definitely boost their presence in the market and let Quetta Gladiators have an opportunity to attract more fans and its followings all around Pakistan.

The partnership has also made Falcon-i the first-ever fleet management company to collaborate with any PSL team. It will also help Falcon-i in offering better deals to its customers and Quetta Gladiators' fans. Falcon-i will continue its valiant efforts to strengthen Pakistan cricket and play its part to serve the nation.
About Falcon-i
Falcon-i is Pakistan's largest privately-owned fleet management company. With a dedicated team and investing in technology, the company has put over 200 corporate enterprises in control, winning trust amongst 190,000 customers. The company aims to make it easy for our customers to monitor and manage their vehicles, so they can stay focused on what matters to them the most, and by doing so, Falcon-i has secured and monitored assets of over US$2Bn.