The divorce case of Pakistan's leading actress Sajal Aly and Ahad Raza Mir has come to light. Actress Faryal Mahmood of Pakistan Showbiz Industry told about the relationship between actress Sajal and actor Ahad.

Actress Faryal Mehmood has posted a photo on the photo and video-sharing app Instagram. In the image posted on Instagram by actress Faryal, actress Sajal can be seen in a very happy mood with her husband actor Ahad Raza Mir.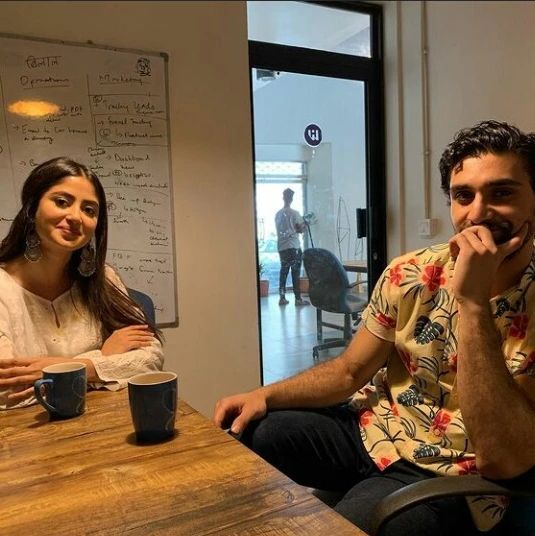 Actress Faryal wrote in the caption of the photo posted on Instagram that once again Sajal and Ahad are together. 
Check Also – Kubra Khan Channels her beauty in Recent Shoot
https://www.instagram.com/p/CblBUORI_H6/
Earlier, Maya Khan had told people in Instagram stories spreading rumors about the divorce of Sajal Aly and Ahad Raza Mir that both the actors have lost their home and love. Be left alone.
She wrote that both of them have lost hope in their love but people are not stopping spreading rumors about them. 
The TV host had appealed to the people not to make their difficult time more difficult by sharing pictures of Sajjal Aly and Ahad Raza.

Maya Khan also shared a video in which she is appealing to the people to stop spreading rumors about the two. 
She said that people do not know anything about the problems of their life but they consider it their right to interfere in the life of others.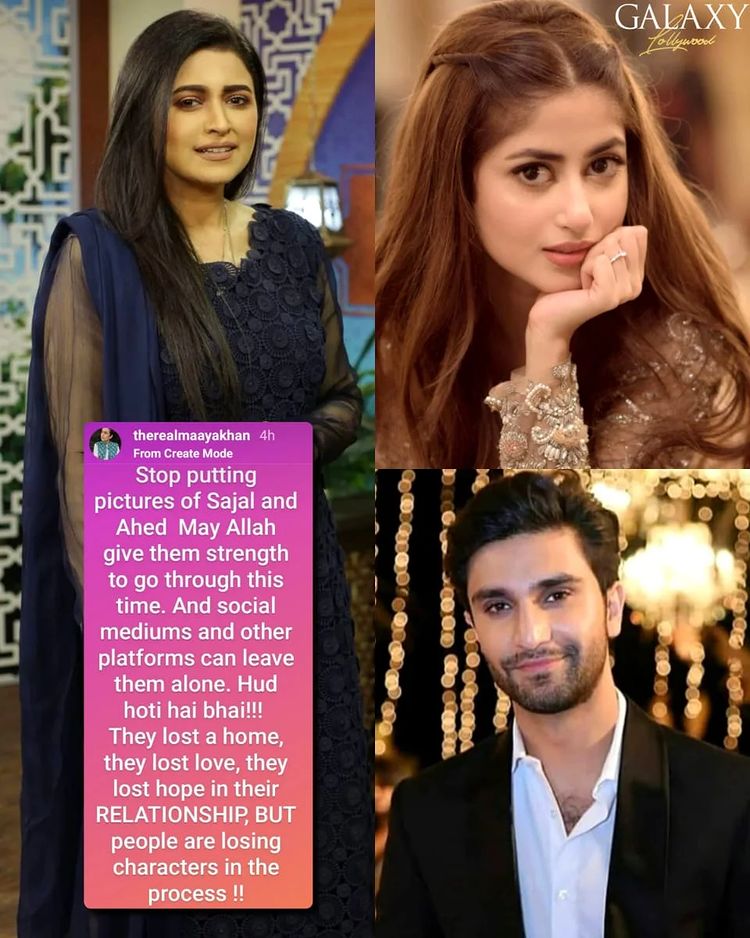 Besides, actor Azfar Rehman had also appealed to the people not to spread rumors about the couple. He wrote in his story that when both husband and wife are famous personalities, their divorce becomes more difficult.

Without naming Sajal Aly and Ahad Raza Mir, he appealed to the fans not to lose patience while taking care of the privacy of the divorced couple. It is to be noted that rumors of the divorce of Sajal and Ahad Raza started spreading when Sajal Ali removed the name of Ahad Raza Mir from her name on Instagram on March 22.

Earlier, there were reports of separation and divorce between the two, but for the last six months, no explanation was given by the two. Sajal Aly and Ahad Raza Mir were married in March 2020. However, the news of their differences started coming only a year after their marriage and now the news of their divorce is spreading after two years of marriage.